15 February 2023
By Tom Collins
tom@TheCork.ie
The new men's range is available to purchase at Arnotts, Avoca, Kilkenny Design, other stockists and direct from TheHandMadeSoapCompany.ie
The Handmade Soap Company, has announced the release of its first-ever complete men's range. Already known for their luxury, handmade range of natural hand, body and home fragrance products, the beloved Irish brand's new range for men includes; a beard oil, hair and body wash, shaving gel, after-shave balm, a bar of soap, and an all-natural deodorant.
Brand Founder, Donagh Quigley, was Inspired by famed perfumers Frederic Malle and Jean Claude Ellena, when creating the signature scent for this new range, using a complex mix of pure essential oils, from hay, to pink pepper, and bitter orange.
Developed and produced in the brand's mill in Co Meath, the launch of this new range will offer a much needed, and widely available all-natural and truly sustainable alternative to the myriad of men's wash and grooming products on our shelves, where 100% natural ingredients are rare and greenwashing is common.
Recent nationally representative research conducted by the Irish brand found that:
88% of Irish men admit to wanting to care more about sustainable practices and natural ingredients when selecting the wash and grooming products they choose to purchase
70% of Irish men believe that the selection of sustainable and natural wash and grooming products available to them is inferior in comparison to what is available to Irish women
45% of Irish men would like to be purchasing more environmentally sustainable wash and grooming products
45% of Irish men would rather be using wash and grooming products that are made from 100% natural ingredients
Speaking of his process when creating the bespoke scent for this new men's range, Brand Founder Donagh Quigley explained:
"We only use essential oils to fragrance our products, in line with our Ecocert and Cosmos Natural accreditations. So I had to be creative about what I could use. After much searching for speciality natural fragrance merchants, I stumbled across the most amazing Hay Absolute, which is a concentrated version of an extract of Hay. This was then married with pink pepper which gives a much rounder and softer heat than the sharper and much more readily available black peppercorn. The scent was then lifted by Bitter Orange and Cardamom and then balanced with Cedarwood and Geranium. This is a complex but not complicated blend that I am really proud of. I am not allowed to pick a favourite child but if I could…"
Now two years in the making in Co Meath, the all-natural, all-sustainable men's range has been designed to satisfy the demands of the modern, sustainability-conscious man and embodies the true spirit of this family business. Namely cruelty-free products made with ethically sourced ingredients and fully sustainable packaging. In fact, all packaging is screen printed and has no outer packaging which the brand sees as the next step up on their sustainable journey.
Speaking on the brand's growth over the years and his unyielding determination to see The Handmade Soap Company become the kindest brand in the world, Donagh said:
"Our story began with myself and my wife Gemma creating soaps by hand in our kitchen. As our business grew, nature always remained our grounding force. We quite literally would not be able to make our products without natural ingredients. Receiving the B Corp accreditation last year was one of my proudest moments in our business journey. B Corp is one of the most demanding certifications and evaluates a brand's social and environmental impact, with over 300 questions about governance, workers, communities and impact on the environment. B Corp is a global movement of people using business as a force for good, and we are extremely happy to now be one of very few Irish brands to be a part of that change."
The men's range is packaged in a distinctive stripped-back geometric repeat pattern with a colour palette chosen to represent the scent of bitter orange and pink pepper.
About The Handmade Soap Company
The brand was founded by the husband-and-wife team, Donagh and Gemma Quigley, from their kitchen back in 2008. Now the brand offers over seventy natural, handmade skin, hair and well-being products. Designed with performance in mind, each ingredient is hand-selected to ensure their product blends are high in quality and efficacy, while always ensuring environmental sustainability.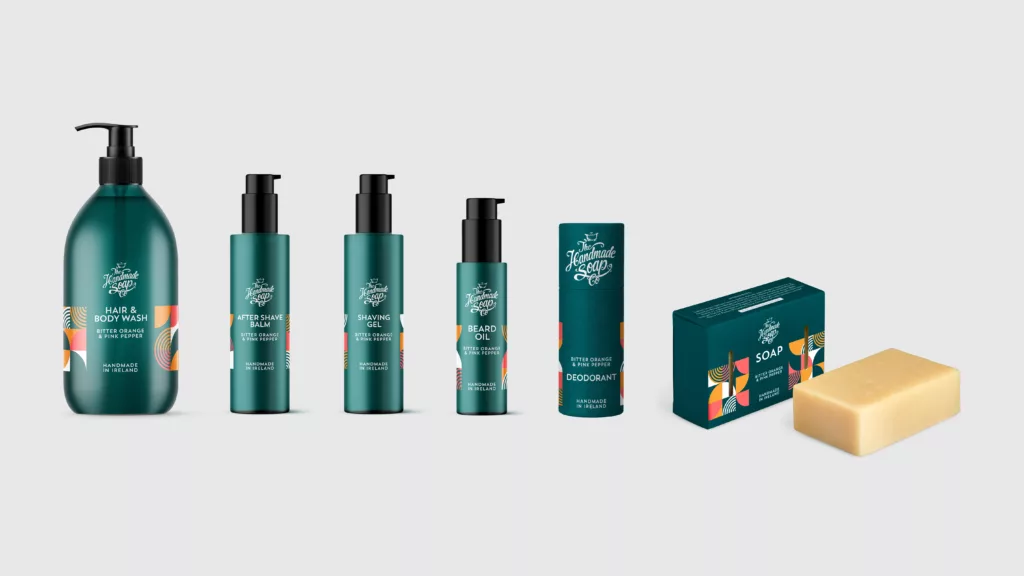 Commitment to Kindness
The Handmade Soap Company goes to great lengths to ensure its products are as kind to the environment as they are to our skin. 'Green washing' has become a huge global issue amongst skincare, beauty and wellness brands. However, The Handmade Soap Company put their money where its mouth is. All of the brand's products are certified by Ecocert Cosmos Natural, The Leaping Bunny Program, The Vegan Society, and Repak Green Dot, all packaging is FSC approved sustainable card, all plastics are post-consumer recycled, and even the factory's electricity and heat are all powered by a river that runs through the grounds in Slane, Co Meath.