28 March 2023
By Roger Kennedy
roger@TheCork.ie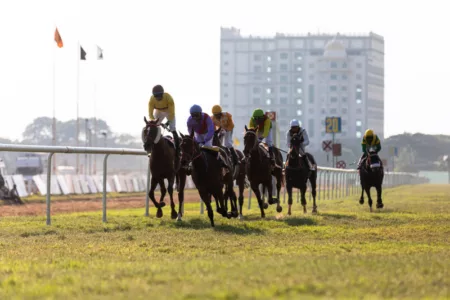 Horse racing has been a significant part of the Irish economy for centuries. The industry supports thousands of jobs directly and indirectly, from trainers and jockeys to stable staff and farriers. Many would agree that besides the economic impact, the thrill of Irish horse racing can't be described in words. From the thundering hooves of the horses to the cheering crowd, it's an experience like no other. But if you're new to horse racing and would like to bet on the Irish grand national runners 2023, understanding how the sport works and what you should expect as a spectator can take time and effort. However, here's a guide on what you need to know about Irish horse racing to make the most of your event experience.
The different types of horse races
Ireland is home to some of the most exciting horse races in the world. From flat racing to steeplechasing, there are a variety of different types of horse races that take place in Ireland. Flat racing is the most popular type of horse race in Ireland and involves horses running on a flat track over distances ranging from five furlongs up to two miles. Steeplechasing is another popular type of horse race in Ireland and involves horses jumping over obstacles such as fences, ditches and water jumps. National Hunt racing is similar to steeplechasing but with fewer obstacles and shorter distances. Point-to-point racing is also popular in Ireland and involves horses running over natural terrains such as fields or hillsides.
The different breeds of horses used
Ireland is home to some of the world's most renowned horse racing events, and it's no surprise that many different breeds of horses are used for these races. The Irish Thoroughbred is one of the most popular breeds used for racing in Ireland, known for its speed and agility. Other popular breeds include the Connemara Pony, which is a small but strong breed that can be used for both show jumping and cross-country events; the Irish Draught Horse, which is a large breed with great strength and stamina; and the Irish Sport Horse, which combines traits from both Thoroughbreds and Draughts to create an athletic horse suitable for eventing. Each breed has unique characteristics that make them well-suited to certain racing events.
Understanding the different types of bets
When attending any race, you must familiarize yourself with the different types of bets available to make informed decisions when placing your wagers. Some popular bets include win, each-way and forecast bets; all these offer different payouts depending on whether your chosen horse finishes first or second in its respective race. Some bookmakers may also offer more exotic betting options such as tricast and accumulator bets, which allow bettors to combine multiple selections into one bet for greater returns if their choices come in winners at the end of their respective races.
Exploring the rules and regulations
The rules and regulations around horse racing in Ireland are set out by the Irish Horseracing Regulatory Board (IHRB). This body ensures that all horse racing events are conducted fairly and safely. The IHRB sets out several rules and regulations for all participants in horse racing events. These include requirements for licensing, registration, health checks, safety equipment, racecourse inspections, drug testing and more. All horses must also be registered with the IHRB before participating in any race. In addition to these general rules and regulations, there are also specific rules that apply to different types of races. For example, flat races have different requirements than steeplechases or hurdle races. It is essential to familiarize yourself with these rules before participating in any race.
In conclusion, Irish horse racing is a thrilling and unique experience that allows spectators to witness some of the finest horses in the world. With its vibrant atmosphere and exciting races, it's easy to see why this sport has remained popular for centuries.