14 September 2023
By Elaine Murphy
elaine@TheCork.ie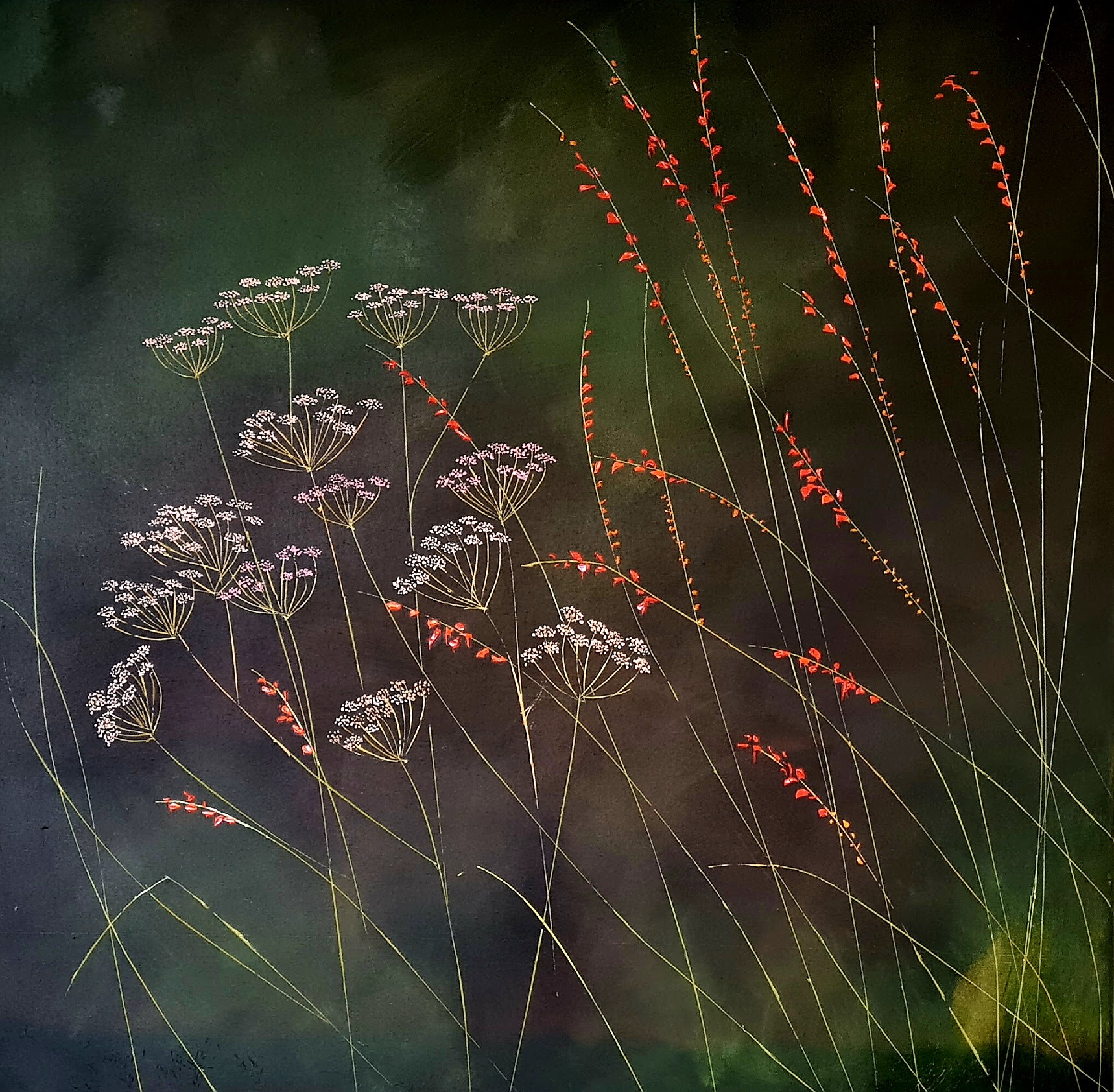 EXHIBITION OF NEW PAINTINGS BY SARAH WALKER TO BE OPENED BY NEIL JORDAN WRITER & DIRECTOR.
DATE & TIME: SATURDAY 23RD 6 – 8 PM
VENUE: WILD ATLANTIC GLAMPING
Sarah Walker will be exhibiting new works in a solo exhibition on Bere Island as part of the inaugural Bere Island Arts Festival. The opening will be followed by an evening of music by ZoDoMo. The exhibition runs from Thursday 21st through Sunday 24th, from 12pm – 5pm.
After a series of recent swimming paintings, Sarah Walker is back on the land in her familiar territory of meadow flowers in season. These new works on canvas, with a darkened edge and background, heighten the intensity of detail of the specific wildflowers which grow so abundantly in Beara.
The deep oranges and reds of montbretia create a rich image of the Beara landscape bright with summer growth. With the misty mauves and purples of mountain heather, and the pinks of fireweed, with their smoke like wispy fibres as they die, they also suggest the softly approaching autumn with its deepening colours.
This summer Sarah Walker exhibitied work as part of In Residence III with The Oliver Sears Gallery in London and is currently exhibiting in The Butler Gallery in Art of Sport which is ongoing until October 8th.
Bere Island Arts Festival is organised by visual and performance artist Mary Sullivan who lives on Bere Island. Her work draws inspiration from Bere Island's picturesque surroundings and its rich military history. She also draws inspiration from the people that inhabit the island and domestic life. Working through the medium of sculpture, photography, videography, and performance, Mary's work uncovers aspects of life that often appear unstudied by the media.
The Hold, an exhibition by Mary Sullivan in collaboration with Bere Island Women Create, is open for the duration of the festival in The Drill Hall. More information available here.
ZoDoMo is a group comprised of three of the country's finest traditional musicians; button accordion master Máirtín O'Connor, fiddle player Zoë Conway and guitar and bouzouki player Donal Lunny, together drawing on an eclectic mix of the old and new where traditional tunes and songs meet each of their diverse influences and unique compositional voices. They will be playing at Wild Atlantic Glamping at 8pm after the opening of the Sarah Walker exhibition.
Currently on show in Sarah Walker Gallery is a selection of other Sarah Walker works, including recent swimming paintings, accompanied by works by Jenny Richardson and Con Kelleher. Open daily 11 – 6pm.
More information about the Butler Gallery exhibition The Art of Sport can be found here at www.butlergallery.ie.