29 October 2023
By Tom Collins
tom@TheCork.ie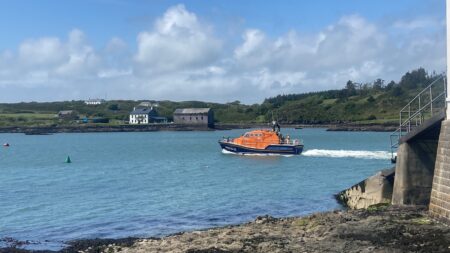 Baltimore RNLI were called out to provide a medical evacuation earlier today (Sunday 29 October) from Cape Clear Island off the coast of West Cork.
The volunteer lifeboat crew launched their all-weather lifeboat at 12.39pm to provide a medical evacuation for a resident of the island who sustained an injury following an accident and was in need of medical assistance.
The Baltimore all-weather lifeboat crew arrived at North Harbour on Cape Clear Island at 12.59pm and after the casualty was assessed by the Casualty Care lifeboat crew member, she was transferred onboard the lifeboat via stretcher. The lifeboat departed Cape Clear Island at 1.09pm and returned to the station in Baltimore arriving at 1.39pm. The casualty was then handed over to the care of HSE Ambulance crew.
There were five volunteer crew onboard the lifeboat, Coxswain Aidan Bushe, Mechanic Cathal Cottrell and crew members Sean McCarthy, Brian McSweeney and Micheal Cottrell. Conditions during the call out were good with a north westerly force 2 to 3 wind, a 2m sea swell and good visibility.
Speaking following the call out, Kate Callanan, Baltimore RNLI Volunteer Lifeboat Press Officer said: 'This is the second medical evacuation (medevac) carried out from Cape Clear Island within two days. On Friday 27 October a man living on the island who was in need of medical assistance also required the lifeboat to bring him out to the mainland. If you find yourself in a emergency whilst on an island call 999 or 112.'