1 November 2023
By Elaine Murphy
elaine@TheCork.ie
The visit, the first since the COVID-19 pandemic, presents an opportunity for Cork to reignite long-running partnerships in Shanghai and Wuxi, particularly in the areas of health and education.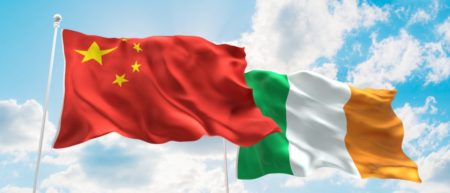 The Lord Mayor of Cork, Councillor Kieran McCarthy, is leading a delegation to Cork's twin city of Shanghai, and partner city of Wuxi, from the 28th October to 8th November 2023.
The programme in Wuxi includes high-level attendance at the 15th Chinese Renewable Energy Conference & Exhibition to discuss efforts to reach carbon neutrality, and meeting with senior Wuxi city leaders. Further to previous engagement, the delegation will meet with the Shanghai Women's Federation to discuss further means of encouraging the full involvement of women in local politics, and in advance of a delegation visiting Cork later this year, the delegation will also meet with the Shanghai City Planning and Natural Resources Department.
In Shanghai, the delegation will meet with the Consul General of Ireland in Shanghai, Wendy Dorman-Smith, and Irish State Agencies in country to discuss opportunities for Cork, particularly around the Chinese International Import Expo, a platform for exporting companies to secure access to the Chinese market. The delegation will engage with the Expo, including the Ireland Pavilion during their visit. Further business engagements have been secured with the Shanghai International Chamber of Commerce, and with Invest Shanghai, the inward and outbound investment body with which Cork Chamber of Commerce are discussing the formalisation of links.
Cork's links with second and third-level institutions in Shanghai are particularly vibrant, and the delegation will meet with the International Education Association of Shanghai and with Shanghai University to develop these ties further, and work to revive co-operation between schools in the two cities following the pandemic.
In 2015 Cork was presented by UNESCO in Mexico with one of the first 12 Learning City Awards worldwide, and in 2017 was selected to host the third International Conference on Learning Cities, receiving over 500 delegates from countries around the world over three days. The delegation will participate and speak at the Global Network of Learning Cities 10 year anniversary Conference in Shanghai during the visit.