11 March 2016
By Bryan T. Smyth
bryan@TheCork.ie
One of Irelands leading hair brands, winners of an Ulster Bank Business Achievers award in 2015, are today opening a second branch in Cork City.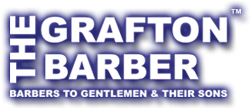 With 30 locations around Ireland including Dublin, Dundalk, Galway, Kildare and Cork, The Grafton Barber describes itself as "the destination barber for gentlemen and the sons".
Having opened their first branch in Cork City in 2013, The Grafton Barber are opening a second branch at 23 Princes Street, Cork City today.
The firms said "Both branches will continue to offer the patrons of Cork City the opportunity to enjoy the award winning levels of service which The Grafton Barber has become synonymous with since first opening in Dublin in 1998. Staffed with highly skilled professionals, customers will enjoy the relaxed atmosphere, while receiving premier standards of hairdressing and customer service."
At 1pm, the managing directors of The Grafton Barber Hugh and Conor McAllister, will be joined by Irish actor Simon Delaney, who will officially open the branch. Simon has been a brand ambassador for the company for many years.