15 March 2016
By Bryan T. Smyth
bryan@TheCork.ie
When and where: Thursday 21st and Friday 22nd April, 2016 – Fota Island Golf Club
Swopping their hurlies for golf clubs, GAA legends Seán Og Ó hÁilpin and Tomás Mulcahy helped volunteer organisers Jack Lynch and Brian Dunphy launch this year's Mercy Hospital Foundation Golf Classic, which is set to take place in Fota Island Golf Club on Thursday 21st and Friday 22nd April, in aid of the new Mercy Cancer CARE Centre on Sheares Street.
The format for the ever-popular Golf Classic will see over 65 teams of four players tee off over the two days in aid of this worthy cause. Funds raised through this year's event will go directly toward the building of the Mercy Cancer CARE Centre next to the Hospital. The Cancer CARE Centre will provide a quiet, safe place for patients and families to help them deal with their cancer diagnosis or to receive ongoing support during their cancer journey, through one-to-one support, peer-group sessions, and bereavement counselling in a nonclinical and relaxed environment.
Encouraging both seasoned and leisure golfers to register for the upcoming event, volunteer organiser and founder of the annual Golf Classic, Jack French said "We're expecting over 65 teams to compete in this year's two day Golf Classic, and by participating, each will be playing their part in the fight against cancer, ensuring that patients receive the best care and support possible during their cancer journey at The Mercy Hospital."
Jack's fellow volunteer organiser, Brian Dunphy, who is former Mercy Board Chairman, said "I have been fundraising for The Mercy Hospital since 1979, and the Mercy Cancer CARE Centre is the most exciting project I've seen so far. I enjoy raising funds for the Mercy as it is a great local institution and one where I can see first-hand the impact of the funds raised on the lives of those using the services of the Mercy."
Brian added "If you want to support the Golf Classic but cannot attend, your company can still be part of the day by sponsoring a tee for €100. To arrange your tee sponsorship, please contact Michelle Murphy in the Mercy Hospital Foundation on (021) 4223132."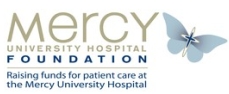 Michelle Murphy, Corporate and Events Fundraiser at the Mercy University Hospital Foundation said "Our mission is to inspire people to support advancements in research, diagnosis, treatments and care of patients at The Mercy University Hospital, the People's Hospital. We promise to do our very best to provide you with a world class hospital, right on your doorstep, and this is only possible through the help of our supporters and donors like the golfers who participate in our Annual Golf Classic and in particular, Jack French and Brian Dunphy, who tirelessly organise the popular event each year."
To sponsor a tee or find out more about getting involved contact the Mercy Hospital Foundation on 021 427 4076 or at www.mercyfundraising.ie.