17 March 2016
By Bryan T. Smyth
bryan@TheCork.ie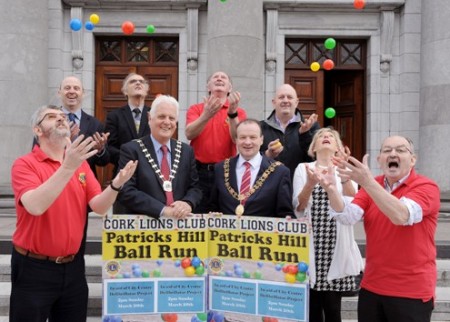 Numerous charities across Cork are set to benefit from a fun and creative fundraising initiative, hosted by the Cork Lions Club today. Ten thousand multi-coloured balls will race down Patrick's Hill today at 2.00 pm, in order to raise money for the installation of defibrillators across Cork city, and to provide continued support to the many causes and charities in the Cork area.
The multi-coloured balls will be released down St. Patrick's Hill, Cork, in a fantastically fun, riveting and colourful manner with the first balls across the finishing line declared winners.
President of Cork Lions Club, Der Cogan, said "We're delighted to have the opportunity to again run the Patrick's Hill Ball Run. It has proven to be a hugely colourful and great fun event for the many families who showed up on the hill and raised much needed funds. I would ask people to log on to our website, purchase a ball and help support the great work Cork Lions Club performs in Cork. Our website is www.corklionsclub.ie . All monies raised locally stay local."
Lord Mayor of Cork City, Cllr Chris O' Leary (Sinn Fein) called on the public and the city centre business community to support the initiative. "The Cork Lions Club provides invaluable support in the Cork area. I ask the Cork public to support this event and that city centre businesses in particular to contact the Lions club to see how they could support the location of defibrillators in the city centre and the training of their staff" said Cllr O' Leary.
Balls cost €2 each and are being sold by members and friends of Cork Lions Club. They are also available in the "It's a Deal" shop at 6 Patricks Quay or via www.corklionsclub.ie