18 May 2016
By Elaine Murphy
elaine@TheCork.ie
Readers of this website – TheCork.ie – will recall a previous controversy in Cork's public bike scheme (sponsored by Coca Cola) when a then Minister cycled without a helmet during a photo op at a launch two years ago. Well now, unfortunately, more negative commentary. But let this not detract from what is a wonderful scheme in Cork.
This weeks negativity is: The view of a monument to the executed 1916 leader Thomas Kent at the Cork train station named in his honour is being blocked by a 2m high electronic payment meter installed by Cork City Council and sponsored by Coca Cola.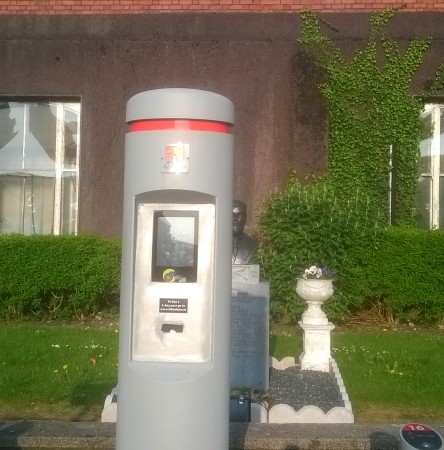 The monument honouring Thomas Kent, one of the 16 executed leaders of the 1916 Easter Rising, is located at Kent Station, Cork which is named in his honour and was recently the scene of a commemoration to mark the 1916 centenary. However a large electronic payment meter for Cork City Council's rent-a-bike scheme has been placed directly in front of the monument blocking the public from viewing it head-on.
Local Workers' Party Councillor Ted Tynan said the decision to locate the pay meter right in front of the monument was inexplicable and he has called for it to be moved immediately saying it was an affront to the memory of Thomas Kent and his comrades who gave their lives in the cause of freedom.
Cllr. Tynan has raised the issue with Cork City Council and has tabled a motion calling for the meter to be moved well away from the monument. He said that it was bad enough that the meter had been located in front of the monument but the Coca Cola connection was an even greater insult. "I am calling on the City Council, in conjunction with Irish Rail who own the site, to see to it that this ugly electronic meter is moved immediately as we enter the peak of the tourist season and when interest in the 1916 Rising is higher than it has been in many decades", Cllr. Tynan said.