9 June 2016
By Elaine Murphy
elaine@TheCork.ie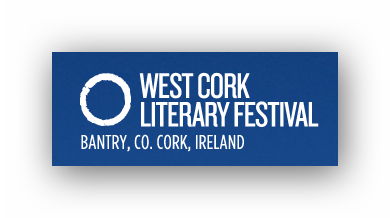 When/Where: Monday 18th July – Saturday 23rd July, Bantry, West Cork
Children, from tots to teens, are the focus for a number of events this July, as part of the 2016 West Cork Literary Festival in Bantry, West Cork. There will be readings and workshops, a visit from The Book Clinic, poetry, illustration, music and games. The West Cork Literary Festival Children's Festival runs from Monday, July 18th to Saturday, July 23rd with many free events – see www.westcorkliteraryfestival.ie for full details.
Are you looking for a new series to delve into? Do you need a prescription for an exciting new read? Then pop along to The Book Clinic on Monday morning, presented by Children's Books Ireland. Families are invited to drop in to the Book Doctor Surgery for a free consultation with one of CBI's friendly panel of Book Doctors who are ready to offer the best advice for the young readers in your family. In the afternoon there is a reading with Kieran Crowley from his novelThe Mighty Dynamo – Recommended for children aged 9 to 12 years. Kieran's debut novel, Colm & the Lazarus Key was nominated for the Bisto Book of the Year Award (2010). The Mighty Dynamo is his third book and was just published in May 2016.
On Tuesday morning, children from 8 to 11 can get involved with a free Poetry Workshop with Chrissie Gittins where they're encouraged to tell lies, launch pork pies and stretch their imaginations as far as the coast of America. That afternoon, little ones ages 7+ can be enthralled by Chrissie as she reads from her brand new poetry collection for children Adder, Bluebell, Lobster, due to be published in August. Chrissie has been shortlisted twice for the CLPE Poetry Award and her poems have been animated for CBeebies.
Elizabeth Rose Murray, writer of The Book of Learning – Nine Lives Trilogy 1 which was awarded the 2016 Dublin UNESCO City of Literature Citywide Read for Children, will host a free Workshop on The Magical World of Storytelling; Elizabeth will explore where we get ideas from and how we can turn them into exciting characters, settings and storylines. Later that day, short story writer Alan Early will join Elizabeth for a special reading of their work and have a chat about books. The following day, get the chance to ask your most burning questions about what it's like to write books for a living with Alan and Elizabeth at Bantry Library, Learn about where ideas come from, see where authors write and learn about what writing novels entails on a daily basis.
On Thursday afternoon, award-winning travel and nature writer Horatio Clare, will read from his first book for children, Aubrey and the Terrible Yoot, a suited for children aged 8 to 12. Michael Morpurgo has described Horatio as having "… the voice of a great storyteller. A joy, a sheer joy!"
Get creative with designer and illustrator Mark Wickham on Friday, July 22nd and Saturday, July 23rd, for a day-long Illustration Workshop – learn how to design your own character for your very own picture book.
Also on Friday, older children can join the award-winning children's author Darren Shan for a reading from his twelfth and final book in Darren's Zom-B series 'Zom-B Goddess'. Darren has published close to fifty books, both for children and adults. His books are on sale in 39 countries, in 31 languages and he has sold twenty-five million copies worldwide.
Last, and certainly not least, author and musician Tadhg Mac Dhonnagáin will close the children's festival with a fun-filled bilingual interactive session with plenty of music and rhymes, fun and games based on the award winning Gugalaí Gug! and Dialann Dúradáin, the new Irish-language edition of global megahit Diary of a Wimpy Kid.
Gloria Steinem, John Banville, Carol Drinkwater, Alice Carey, Zadie Smith and Louis De Bernieres are just some of the guests at this year's West Cork Literary Festival in July. It runs from July 17th to 23rd and is generously supported by The Arts Council, Cork County Library and Arts Service and Fáilte Ireland. Booking on www.westcorkliteraryfestival.ie, Telephone: 027 52788/9 LoCall: 1850 788 789.