6 August 2016
By Bryan T. Smyth
bryan@TheCork.ie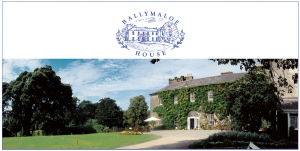 The fourth annual Ballymaloe Garden Festival takes place on Saturday 3 and Sunday 4 September on the grounds of Ballymaloe House in Shanagarry, Co. Cork. It will be a weekend blooming with talks, walks, workshops, demonstrations, food and fun designed to satisfy rookie and veteran gardeners alike.
Among the nearly 20 speakers are Darina Allen on the school yard garden, Leonie Cornelius (familiar to viewer of RTE-TV's Super Garden show) on garden design from scratch, Christopher Moore on an Irish garden in the Cotswolds, and Catherine FitzGerald on reviving the historic Hillsborough Castle garden.
Neil Porteous, head gardener at Mount Stewart, Co. Down, will speak on technology in the garden, chef and nutritionist Debbie Shaw will talk about eating yourself well with raw food power from your garden, while Klaus Laitenberger will share his vast knowledge of growing organic fruit and vegetables.
Ballymaloe's wonderful walled garden is the location for festival fringe events. Fancy a potato tasting or a tipple of Blackwater Distillery's Wexford strawberry gin? Want to learn how to attract bees and butterflies or build a bug hotel? These and many other activities for all ages, including tours led by garden staff, will take place within the magical confines of the garden.
More than 50 stalls will be selling rare and old-fashioned plants, trees and shrubs; culinary and medicinal herbs; tools, seeds, crafts, garden ornaments and machinery. Of course, no Ballymaloe festival is complete without a bounty of food and drink stalls from local market heroes.
Children and adults are invited to enter their home-made and home-grown baked goods and garden gems into the Ballymaloe Summer Show, a friendly competition for the best of wild flower arrangements, scones, jams, fairy houses, etc.
Children can take part in a wood-carving workshop and will be fascinated by the rescued birds of prey brought along by Animal Magic.
Second-hand garden books will be for sale with the proceeds going to St. Vincent de Paul.
The Ballymaloe Garden Festival is sponsored by Ballymaloe Relish. It takes place on Saturday 3 and Sunday 4 September from 10am to 4pm. All events are included in the €8 admission, and children under 16 go free. For a complete programme of events see www.gardenfestival.ballymaloe.ie.