30 December 2016
By Bryan T. Smyth
bryan@TheCork.ie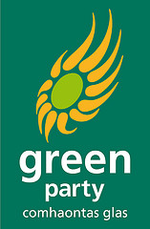 The Green Party today announced that they are preparing legislation to extend voting rights to Irish citizens living abroad, to be introduced in the new Oireachtas term. The party also plans to extend Dáil voting rights to EU citizens living in Ireland for five years or more.
As part of its general election manifesto, the Green Party committed to introducing an absentee ballot facility for eligible voters currently living overseas. The party is now seeking to engage with emigrant representative bodies on the details of the bill.
The party's draft Electoral Bill 2017 proposes that Irish voters would keep their right to vote for up to fifteen years after moving abroad, mirroring the facility in the UK. Emigrants would have the choice to either come home to vote or would be allowed a postal vote for the first time.
The Green Party plan also proposes to extend the right to vote in Dáil elections to approximately 100,000 EU citizens living in Ireland for five years or more.
A 2010 Eurobarometer survey found that 68% of people in Ireland supported EU citizens having the right to vote in national elections, the highest level of support in the EU. The Green Party proposes that this right be extended to EU citizens in Ireland regardless of whether or not reciprocal agreements exist with other member states.
Cork reaction
Speaking today, Green Party political reform spokesperson and the party's representative in Cork North Central, Oliver Moran said:
"Right now, the only way for EU citizens living here to get a vote in Dáil elections is to apply for naturalisation. But that costs over €1,000 so in reality who's going to do that just to vote? The result is a growing problem of disenfranchisement. People planning to live the rest of their lives here, with mortgages, children at school, working, paying taxes, all of that, but with no say over who their local TD is. That's not tenable anymore so this bill will make the next leap forward and give the right to vote to other EU citizens permanently resident here."
The planned Electoral Bill 2017 is the latest in a suite of reforms being put forward by the Green Party to extend voting rights. The Seanad Bill 2016, co-sponsored by Green Party senator, Grace O'Sullivan, proposes to open Seanad elections to all Irish citizens on the island of Ireland and Irish passport holders living abroad.
An options paper for extending voting rights in presidential elections to all Irish citizens worldwide is expected from the Government shortly.