6 January 2017
By Bryan T. Smyth
bryan@TheCork.ie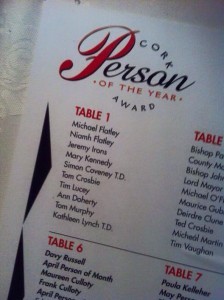 Excitement is building Leeside as the countdown begins towards the official announcement of 'Cork Person of the Year 2016'.
Twelve 'Cork Person of the Month' winners are in contention for the overall 2016 title, which will be announced at a Gala Awards Lunch in a fortnight on January 20th at the Rochestown Park Hotel.
The Awards Lunch will be attended by more than 250 guests, including the 12 monthly nominees for 2016, with RTE radio broadcaster, Sean O'Rourke performing the role of MC on the day. Guest speakers will include Cork's Dee Forbes, Director-General of RTE and Tom Crosbie, Irish Examiner and Landmark Media.
"I'm proud to say that this is the 24th year these awards have been running and with so many worthy nominees this year, our judges, Tim Lucey, CEO, Cork County Council and Ann Doherty, CEO, Cork City Council, have a particularly difficult job on their hands," according to the awards organiser, Manus O'Callaghan.
"Each of our 12 nominees has been interviewed on the 'Cork Person of the Year' Facebook page, with Martin of 'Martin's Life' and Olympic silver medalists, Paul and Gary O'Donovan attracting the highest number of views to-date. The 2016 winner will be announced on January 20th and at this stage, it's definitely too close to call," concluded Mr. O'Callaghan.
Sponsors of the 'Cork Person of the Year 2016' Awards are: The Irish Examiner, RTE, Southern Advertising, AM O'Sullivan PR, Lexus Cork, Cork Crystal, C&C Gleeson and Tony O'Connell Photography.
These are the nominees for 'Cork Person of the Year 2016'
January: Liam Hallihan – for his creation of the YouTube sensation, 'Martin's Life'.
February: Eoghan Ryan and Alasdair Fitzpatrick – for their art project to rejuvenate old and derelict parts of Cork City, Reimagine Cork.
March: Daire Hickey – Web Summit Founder and Forbes magazine's 'Top 30 Under 30 Business Stars'.
April: Jennifer Dowler – for her work in setting up 'Dogs for the Disabled' which provides assistance dogs for children and adults with physical disabilities.
May: Noreen Murphy – who set up Lisheens House West Cork Suicide Prevention which now covers all of West Cork.
June: Christina Chalmers – who established the 'Please Join Me In Helping Cork's Homeless' initiative to help people living rough on the streets of Cork.
July: Conor Hourihane – who created history for himself and his club, Barnsley, in English Professional Soccer when he captained the side to their very first League Cup victory.
August: Pat Kiernan – founder of Corcadorca Theatre 25 years ago and pioneer of outdoor city theatre.
September: Tomás and Terry McCarthy – for their leadership role with the Cork Youth and the Junior Cork Youth Orchestras.
October: Paul and Gary O'Donovan – Silver Olympic and World Gold Rowing Champions (these are the favourites according to informed sources)
November: Dr. Seamus O'Mahony – for his book 'The Way We Die Now' which opens a discussion on the de-medicalisation of death and dying.
December: Karen O'Mahony – who founded the Rainbow Club to provide therapeutic services and support for children with Autism and their families.