14 February 2017
By Tom Collins
tom@TheCork.ie
The government has no plans to fix the "absurd" and artificial division of Carrigaline which has resulted in rent limits applying to one side of the town and not the other, according to local Fianna Fáil TD Michael McGrath.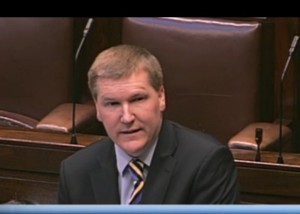 Deputy McGrath was commenting following a parliamentary reply he received from Housing Minister Simon Coveney
"Arising from the fact that Carrigaline is split across two different local electoral areas, we now have the ridiculous situation whereby the area of the town north of the Owenabue River (situated in the Carrigaline – Ballincollig local electoral area) is subject to 4% rent increase per annum whereas the area of the town south of the Owenabue River (situated in the Kinsale – Bandon local electoral area) is not subject to the new rules.
"This is completely unfair and places tenants on one side of Carrigaline in a very vulnerable situation. I fully expected that the government would move to fix this problem.
"In reality, the part of Carrigaline in the Kinsale – Bandon local electoral area is under the exact same rent pressures as the remainder of the town and the tenants there deserve to be afforded the same protections.
"It is deeply disappointing that Minister Coveney, who is personally well aware of the situation as a local TD based in the town, has not held out any hope of this blatant anomaly being corrected and I would ask that he and his government colleagues revisit this.
"In light of today's report on rents from Daft.ie showing that rents in Cork County rose by almost 13% in the past year, it is vital that tenants are shielded from massive increases in rent," concluded McGrath.