14 March 2017
By Bryan T. Smyth
bryan@TheCork.ie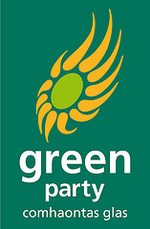 The Green Party have welcomed the Taoiseach's announcement that the Government will propose a referendum to extend the right to vote in Presidential elections to Irish citizens worldwide.
Currently only Irish citizens who are physically present in Ireland can vote on polling day. The only exemptions – by way of postal votes – are for serving defence forces personnel and diplomatic staff posted overseas.
Speaking this week, the Green Party spokesperson for political reform and the party's representative in Cork North Central, Oliver Moran, said:
"This is good news. It underlines the importance we attach to our diaspora and citizens in Northern Ireland. It places the President as the first among equals in the entire Irish nation, no matter where we live."
"Of the nine Presidents of Ireland, two, Éamon de Valera and Erskine Childers, were born outside of Ireland, de Valera to emigrant parents. And Mary McAleese was born and raised in Northern Ireland. We are a global nation, our Presidents have reflected that. It's right that that globalism be recognised fully in our President."
The Green Party have already announced that it intends to propose extending Dáil voting rights to recent emigrants and EU citizens permanently resident here.
The Seanad Reform Bill 2016, co-sponsored by Green Senator, Grace O'Sullivan, also proposes to extend voting rights in Seanad elections to all citizens worldwide.
Mr Moran said: "I hope this will herald the start of a new phase voter rights reform. In January, we engaged in a consultation with emigrant groups and the public on extending Dáil voting rights to recent emigrants. It's time too to allow EU citizens permanently resident here have the right to vote in Dáil elections."