7 April 2017
By Bryan T. Smyth
bryan@TheCork.ie
Applications open for IGNITE 2017/18 programme
Cork start-up programme IGNITE is to double capacity. IGNITE Director, Eamon Curtin said "This is an exciting time for IGNITE. Based on our track record of start-up success we can now move to support more young entrepreneurs on their start-up journey. Thanks to our supporters, starting a business is a viable career choice for graduates."
The IGNITE Open Evening marked an open call for applications for the IGNITE 2017/18 programme that will commence this summer. It encouraged all recent graduates, from all third level institutions in Ireland with a good business idea to explore and experience how they can develop that idea into a sustainable and scalable business with the supports available at IGNITE.
Applications for the IGNITE 2017/18 Programme are now open until Friday, May 26th. Further information is available at www.ucc.ie/en/ignite.
Open Evening
Guests at the IGNITE Open Evening, on Tuesday of this week, heard from a mix of entrepreneurs at different stages of their entrepreneurial journey including serial entrepreneur, Raomal Perera, who has over 30 years' experience in the IT, communications and related technology industries, and who is one of a handful of Irish entrepreneurs to have taken a company public on NASDAQ (ISOCOR).
Richard Barrett, Co-Founder and COO, Pundit Arena spoke of how IGNITE gave him and Co-Founder, Ross O'Dwyer, the skills to develop their business model but crucially also taught them to test it; while Bank of Ireland/ IGNITE Business of the Year Award 2016 winner, Allmin Resources founder, Alpa Agrawal told how IGNITE helped her develop her current network of supports. Current IGNITE participants Kevin Buckley, Founder, CEO, Balzey and Conor Lyden, Founder, CEO, TrustAp spoke about the importance of getting your pitch right and what IGNITE is really like.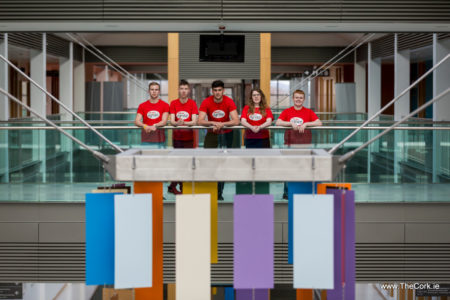 IGNITE is an international, award winning business start-up programme that specialises in supporting recent graduates turn good ideas into great businesses. The 12 month programme is based in UCC and is open to all recent graduates from all third level institutions and from all disciplines.
Since 2011, IGNITE has launched 60 businesses, creating over 150 jobs. Successful IGNITE start-up companies include Anabio Technologies, Allmin Resources, Pundit Arena, and Vconnecta. For start-ups that take part in the programme, IGNITE's support is equivalent to a €25K investment and founders do not give up any equity in their business.