2 June 2017
By Elaine Murphy
elaine@TheCork.ie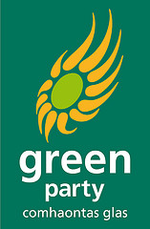 The Green Party in Cork have written to Cork County Council objecting to – what they say is the – "watering down" of protections for the Ringaskiddy Martello Tower in the draft Local Area Plan.
On 27 March, Cork county councillors voted to amend the plan to maintain a "buffer zone" around the Martello Tower, protecting it from development, against opposition from council officials. Officials have now proposed a change to the plan by removing this protection again.
Making the Green Party submission, Oliver Moran, the secretary of the Cork Greens, wrote:
"Not protecting the integrity of the immediate surrounding environment of the Martello Tower would show a very shallow respect for preserving its cultural integrity. Protecting the integrity of the tower's setting, in particular its curtilage, is equal in preserving its cultural value to preserving the line of sight, access and the integrity of the tower itself. Our submission is that this alteration be rejected by Cork County Council and that the original requirement, as agreed on 27 March, be retained."
The original requirement to protect the tower was driven by independent councillor, Marcia D'Alton. It was supported by the Ringaskiddy Rights of Way Commission, a local community organisation led by Green Party representative, Gordon Reid, which spent a year clearing the overgrown right of way from Gobby Beach to the Martello Tower.
Councillor D'Alton was successful in achieving protections to preserve the line of sight between the tower and the four other historic fortifications in Cork Harbour. As a consequence of this amendment to the Local Area Plan, Cork County Council have recognised the original right of way to the Martello Tower for the first time.