6 August 2017, Sunday
By Bryan Smyth
bryan@TheCork.ie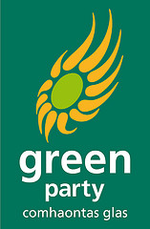 The Green Party in Cork has urged the body established to oversee the extension of Cork City Council to ignore the latest submission by Cork County Council.
Last week, the government published the terms of reference for the Cork Local Government Implementation Oversight Group. The group is charged with implementing the recommendations of the Mackinnon Report report ahead of the 2019 local elections.
The Mackinnon Report involved a review the 2015 Smiddy report and its minority report into the extension of the boundary of Cork city. On Friday, a week after the terms of reference for its implementation was announced, Cork County Council published another proposal to drastically limit the size of the recommended boundary extension.
Speaking after the publication of the county council's latest proposal, Oliver Moran, the Green Party spokesperson of political reform and representative in Cork North Central said:
"We've been around this merry-go-round enough already. This latest proposal is a distraction and should be treated as such by everyone involved. All of these options have been examined over and over again already. A decision has been made and this one has already been rejected. Cork County Council need to now get with it and knuckle down to the work of implementing the Mackinnon Report."
Mr Moran was a vocal opponent of the 2015 majority report that recommended the merger of Cork city and county councils.