28 August 2017
By Elaine Murphy
elaine@TheCork.ie
Uillinn: West Cork Arts Centre, Skibbereen, is hosting the largest and most comprehensive exhibition of one of Ireland's foremost international contemporary artists, Susan MacWilliam, from Saturday 9th September.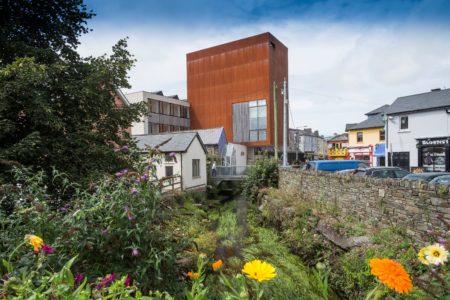 The centre is one of only four impressive venues to host the standout exhibition across the Island of Ireland. The exhibition has already drawn record numbers of visitors to the F.E. McWilliam Gallery in Banbridge and to the Highlanes Gallery in Drogheda.
Modern Experiments presents a unique body of material that explores phenomena and concepts falling beyond conventional fields of science and psychology. The free exhibition runs until Wednesday 18th October.
For 20 Susan MacWilliam has investigated obscure and overlooked histories, in addition to cases of perceptual and paranormal phenomena.
Using anecdote, reconstruction, forms of portraiture, and detailed editing, she has made work about psychic mediums, ectoplasm, X-ray vision, telepathy, table tilting, clairvoyance, remote viewing and dermo optical perception. Modern Experiments presents key pieces from the artist's award winning career with a focus on works created from 1998 onward when Susan began working with video.
Susan's work is guaranteed to captivate visitors from across the southwest with a series of video installations, sculpture and photography that promises to elicit curiosity and stretch the imagination.
Artist Susan MacWilliam said:
"Uillinn: West Cork Arts Centre is an iconic venue for arts and culture in Ireland and I'm delighted to exhibit in such a stunning space. Modern Experiments explores ideas and narratives of vision and perception, of reality and illusion, and of the paranormal and super-sensory. I look forward to my work reaching new audiences and new eyes."
Born in Belfast in 1969 Susan MacWilliam lives and works in Belfast and in Dublin, where she is a lecturer at the National College of Art and Design. In 2009 she represented Northern Ireland at the 53rd Venice Biennale. She was awarded a Derry City of Culture Commission in 2013, and was winner of the Ormeau Baths Gallery Perspective Award, 2003. Other awards include EV+A, Limerick, 1999, 2001, 2005, and Claremorris Open, 2007.
In 1999 Susan was shortlisted for the IMMA Glen Dimplex Artists Award. She has exhibited extensively nationally and internationally with solo shows in Belfast, Dublin, London, Manchester, Derby, New York, Winnipeg and Victoria, B.C. She is represented by CONNERSMITH, Washington, DC.
Ann Davoren, Director of Uillinn: West Cork Arts Centre, said:
"Since its launch at the F.E. McWilliam Gallery last year, we have been eagerly awaiting the arrival of Modern Experiments to Ireland's southwest. Uillinn: West Cork Arts Centre is the perfect venue to host this exhibition which promises to deliver an exceptional, memorable visitor experience. We hope that by facilitating this outstanding body of work that people will be inspired to delve more deeply into a fascinating range of subject areas."
MacWilliam's idiosyncratic installations and videos lead the viewer through histories of spiritualism and psychical research, immersing them in curious tales of vision and perception. Poltergeist investigator William Roll and writer Ciaran Carson contemplate ectoplasmic manifestations in F-L-A-M-M-A-R-I-O-N, while the séance room phenomena of Helen Duncan, the last person tried under the British Witchcraft Act, are restaged in The Last Person.
The installation Kuda Bux invites the audience to become a part of the work, drawing it into vaudeville stage acts of X-ray vision in 1950s New York. Dermo Optics animates the fingertip vision experiments conducted by Yvonne Duplessis in her underground Parisian laboratory.
In 13 Roland Gardens famed Irish medium Eileen J. Garrett is brought back to life through the detailed anecdotes of her 91-year-old daughter, while KATHLEEN channels the inner thoughts of Derry born writer Kathleen Coyle. Figures, now dead, from the fields of parapsychology re-materialise in mesmeric stereoscopes; and neon texts pose questions about the nature of life and death.
This survey exhibition will be the first opportunity for audiences throughout Ireland to see Susan's key works together in one exhibition, and to gain an extensive overview of her distinct practice.
A specialised programme focusing on those living with Alzheimer's and Dementia will accompany the exhibition – several of the subjects of MacWilliam's videos are aged in their 80s and 90s and the narrative quality of many of her works, together with the historic subject matter, provides rich ground for specialist sessions with local Alzheimer groups as part of Uillinn's In the Picture programme.
Modern Experiments is supported by a major touring grant awarded through a joint initiative by the Arts Council / An Chomahirle Ealaíon and the Arts Council of Northern Ireland. A publication documenting Modern Experiments and including essays by leading scholars is being developed, and will provide a detailed overview of MacWilliam's practice.
Uillinn: West Cork Arts Centre opens from Monday to Saturday from 10.00am to 4.45pm and includes Kalbo's Café. For more information, visit the website at www.westcorkartscentre.com or phone 028 22090. More information is also available on Facebook and Twitter.