30 August 2017
By Bryan Smyth
bryan@TheCork.ie
Over €46m in small loans overdue to friends and family in Co Cork in past 6 months
New research commissioned by Circle reveals how great people from Cork are at lending money with 21% of us advancing cash to family and friends monthly. It also highlights how bad we are at paying it back; on average each lender is left out of pocket to the tune of €224 each year.
Circle, the free social payments app which makes it easy to send, receive and request money from anyone in your phonebook, commissioned Amarach to conduct a nationwide survey to expose our lending and borrowing attitudes and habits.
The survey revealed that in the past 6 months, we have lost an average of €112 to friends, family and colleagues in bad debts for purchases such as entertainment tickets, rounds of drinks, taxi fares, household bill shares, restaurant bills and small cash loans.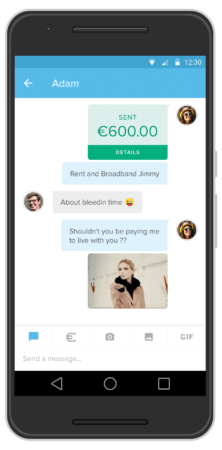 The survey also showed that on average people need to be owed almost €50 before they ask for it back (€46 exactly) and only 22% will ask for any amount of money back.
The sage advice of 'neither a borrower nor a lender be' is taken on board by many with 44% of respondents claiming to never borrow money while 38% claim they never lend money to friends or family.
Circle, with its global HQ in Dublin, is a free to download app that allows users to send and receive money instantly within Ireland. Internationally, users can also send and receive cash with no fees and no mark up on foreign exchange rates making it the cheapest way to transfer money to friends and family overseas.
The population of Cork feel altruistically that they lend more than they borrow. 17% of respondents admitted to borrowing from friends and family on a monthly basis with €16 being the average amount of money being borrowed. However, 21% of respondents claim they lend on average €23 on a monthly basis.
When it comes to how the Rebels feel about requesting loans to be repaid, 52% of respondents feel uncomfortable and 49% feel awkward asking for less than €20 back. A noticeably larger proportion of female respondents claim to feel somewhat or very nervous while asking for money back (54%) as compared to male respondents (31%).
Amounts under €50 showed almost half of people would prefer to not request repayment face to face and rather use technology such as a text to ask for outstanding loans to be settled.
Jack Collier, Circle European Marketing Director "If a picture paints a thousand words then a GIF gets straight to the point. We all work hard for our money and asking for it back shouldn't be difficult or embarrassing. Circle allows for a fun and friendly reminder of money owed and facilitates an easy 'on-the-spot' repayment that will raise a grin rather than a grimace. And there are no borders – Circle users can send and receive money in Euro, Sterling and Dollars".