31 August 2017
By Bryan T. Smyth
bryan@TheCork.ie
Today the Checkout / Nielsen 'Top 100 Brands' issue which is the most important publication for the Fast Moving Consumer Goods Grocery Retail sector in Ireland throughout the year was published. Cully & Sully moved up to take the lead in the number one soup brand in the total Irish soup market.
The list is compiled using the latest Nielsen scan track data which is widely considered to be the best independent benchmark for branded grocery sales in Ireland.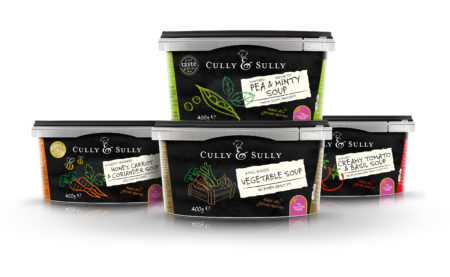 Cully & Sully has soups has gone from strength to strength since the company launched in 2004 with a range of premium pies. Four years later in 2008 Cully & Sully launched a range of soups noticing a gap in the marketplace for convenient and tasty soup and in just under 10 years the soups have become number one in the Irish retail market.
Cullen Allen of Cully & Sully said, "We are absolutely thrilled with the raking in this years' Top 100 Brands issue and we are very thankful to our loyal customers who have helped us get to this position.
We pay huge attention to the quality of all of our products. We make our soup the way you would make it at home and with only ingredients your granny has heard of.
In 2016 we launched 6 of our soups into the UK Market with performance exceeding our expectations. We are also an exclusive supplier to Delhaize in Belgium. We have big plans for 2017 with new soups and pies coming out later this year."
Cully & Sully was started in 2004 by childhood friends Cullen Allen and Colum O'Sullivan. Cully was working as a designer following a degree in fine art and Sully was working in retail after graduating from Food Business in UCC. The business has now grown to employ twelve full-time staff all based in an office in Cork City.
Both Cully & Sully were immersed in good food growing up around Ballymaloe & Midleton in Co Cork and noticed a gap in the market for convenient quality meals & soups for busy young professionals.
Since launch Cully & Sully has extended its range of pies, to soups and hot pots and have plans to extend the range even further in 2017. Keeping a close eye on all of the recipes and using quality ingredients are key to the success of Cully & Sully. Making tasty convenient food and having fun doing it is what makes it all worthwhile.