9 December 2017
By Bryan Smyth
bryan@TheCork.ie
The Green Party in Cork has welcomed reports that the government plan to propose a directly-elected mayor for the city.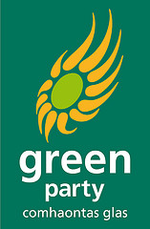 Reports in the Irish Times say the government is expected to recommend the plan at next week's cabinet meeting. The plan is for an executive-style mayor with responsibility over a metropolitan area larger than the city bounds. The mayor will be supported by a regional assembly, similar to London. A local referendum is expected before the plan will be put in place.
Speaking this morning, the Green Party spokesperson on political reform and representative in Cork North Central, Oliver Moran, said:
"This is just the kind of reform we have been campaigning for. There was some disappointment that the city expansion did not take in the whole metropolitan area, which includes the harbour area. The devil may yet be in the detail but my instincts tell me this is a good idea. Cork city and county already cooperate on strategic planning for the metropolitan area. The idea of a directly-elected mayor is for one person who can take responsibility for that and add energy and democratic mandate. That can only be a good thing."
The Green Party have been vocal in support of directly-elected mayors in Cork and Dublin. The party introduced a bill for a directly-elected mayor of Dublin in 2016, and have campaigned for one in Cork too.