14 May 2018
By Elaine Murphy
elaine@TheCork.ie
Workers' Party want Air Quality monitoring to be carried out throughout Cork city, starting with the North Ring Road.
Workers' Party Councillor Ted Tynan has proposed a motion to Cork City Council at which he will call for continuous air quality monitoring to be carried out on some of the busiest roads in the city, starting with the section of the North Ring Road between Silversprings Hotel and Ballyolane.
Cllr. Tynan said that recent tests carried out by the Centre for Research into Atmospheric Chemistry of UCC in advance of the now stalled Patrick Street pedestrianisation showed a direct link between heavy concentrations of traffic and very high levels of air pollution in the form of Fine Particulate Matter.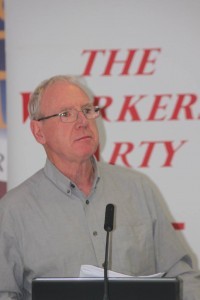 He said this showed the need for air quality monitoring on an ongoing basis and he insisted that it should not be confined to the city centre. "Anyone who is familiar with the North Ring Road will know that it is one of the busiest routes in the city and has traffic levels equal to most parts of Dublin. As one of the many people who live in the area and walk it on a regular basis, the high level of air pollution is obvious", said Cllr. Tynan
"There are several other areas around the city where air quality related to road traffic is a concern, yet air quality monitoring is practically non-existent. Cork City Council should be continuously monitoring Cork's air, not just for particulates but nitrogen dioxide and ozone too. This will not only measure traffic-related air quality but the level of pollution in the city's air in general" he said.
Cllr. Tynan said, "The Centre for Research into Atmospheric Chemistry has shown that it has the expertise in this area and I am sure that they would be more than happy to advise Cork City Council on the establishment of continuous monitoring of air quality in Cork. I am now calling on the City Council to set in motion the establishment of this monitoring programme and propose that it starts on the North Ring Road as soon as possible"
The motion will be referred to the council's Environment & Recreation Functional Committee for further discussion