5 July 2018
By Bryan Smyth
bryan@TheCork.ie
Following a review undertaken by the Central Bank on mortgage related advertising on cash back offers, Fianna Fáil Spokesperson on Finance Michael McGrath has expressed alarm at the fact that 75% of the advertisements breached the Consumer Protection Code and had to be either withdrawn or amended.
Deputy McGrath commented, "The level of non-compliance with the Consumer Protection Code in relation to these cash back promotions is really quite startling. These cash back incentives are designed to dazzle consumers and it is very difficult for consumers to assess where the best long term value is, especially if they are not being given comprehensive and accurate information. According to the Competition and Consumer Protection Commission, customers availing of cash back promotions may end up paying back tens of thousands of euro extra over the life of the mortgage.
"This type of shoddy advertising is not at all acceptable. 183 advertisements were reviewed by the Central Bank and 75% of them had to be withdrawn or amended because of non-compliance with the rules. The Regulator should really be removing these cash back incentives from the market and forcing lenders to compete on rates. The retention of these 'incentives' is providing cover for banks to continue to charge Irish mortgage holders the highest interest rates in Europe.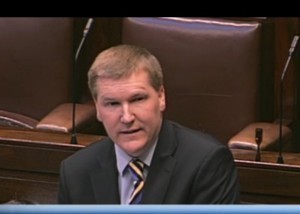 "Under the Consumer Protection Code, lenders must set out clearly the implications of such incentive offers and provide comprehensive and understandable information on them. The Code is there for good reason and it is a deeply worrying development that key information and qualifying criteria was missing from some ads, while the content of some ads was unclear, and the content of some web pages was not accurate or up to date.
"The Central Bank must now act on its review and take a stronger line on cash back offers. Lenders should be competing on interest rates and interest rates only. These cash back offers only serve to muddy the waters for the customer and by removing them we will have a clearer and fairer marketplace for mortgages", concluded McGrath.