17 July 2018
By Bryan Smyth
bryan@TheCork.ie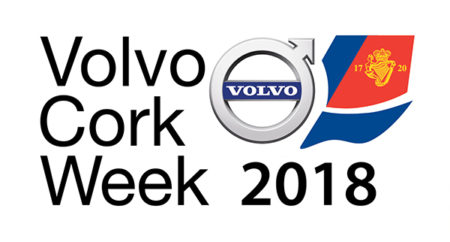 The weather forecast of showers along the Atlantic seaboard didn't disappoint the fleet racing at Volvo Cork Week in Crosshaven on Tuesday where welcome rain failed to dampen Sailing enthusiasm off Roche's Point.
The day started as Monday had finished with the Fastnet Race for the military and rescue services crews competing for the Beaufort Cup.
After 25 hours off non-stop competition, the much-anticipated race win for Tánaiste Simon Coveney failed to materialise after his Jedi entry lost the lead they had held for 20 hours non-stop off the Old Head of Kinsale.
It all came down to tactics and Coveney's Defence Forces entry was locked in a duel with Commandant Barry Byrne on Joker 2 who is defending their 2016 victory, also for the Irish Defence Forces.
Byrne opted to sail out to sea in search of breeze while Coveney opted to hug the shore for the final few hours to the finish.
The Sailing adage "Winners is Grinners" was very apt for Byrne's team as they approached the finishing-line in good breeze with an unassailable lead and with Youen Jacob's Baltimore RNLI crew for company as they had shadowed the leader offshore.
"It was fantastic having all the J109's leading the race as it made it real one-design racing," commented Ian Travers, navigator on Joker 2. "Coming back from the Fastnet where we were fourth boat, we slowly chipped away by being furthest offshore."
Meanwhile, the main Volvo Cork Week fleet enjoyed a full range of weather conditions as they sailed a second day of coastal courses and, thanks to fresher winds were spread the full range of the coastline from Power Head to the Sovereigns Rocks off Kinsale.
The first overall result of the week was also decided when the Wrecks Trophy series was won by Welsh Mojito owned by Peter Dunlop and Vicky Cox who topped IRC Class Two after the first two days of Volvo Cork Week were sailed around the Cork coastline.
While the series reaches its spectacular highpoint tomorrow (Wednesday) with the famous Cork Harbour course, beginning at 11am with a massed start off Roche's Point before sailing past the scenic backdrop of Cobh town, six races remain on Thursday and Friday meaning all classes will be far from decided.
For all the stories, pictures and videos from Volvo Cork Week like our Facebook page https://www.facebook.com/VolvoCorkWeek/
For race documents, results and event guides: www.corkweek.ie