25 February 2019
By Elaine Murphy
elaine@TheCork.ie
Cork City's newest pedestrian bridge was tonight named after Mary Elmes in the last stage of a public consultation which garnered huge interest in the city and beyond.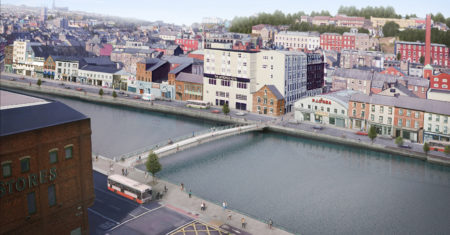 Known as "The Irish Oskar Schindler", Mary Elmes was born in Ballintemple in Cork city. An aid worker, she is credited with having helped over 200 Jewish children escape Vichy France and the threat of concentration camps.
This evening, Cork City Councillors chose from a shortlist of five names based on suggestions from members of the public. Up to 92 public submissions were made as part of the public consultation process with 35 names suggested.
Following a vote on the chamber floor, the two shortlisted names with the highest number of councillor votes were confirmed by the Lord Mayor. These were Mary Elmes and Donnchadh de Barra. Each councillor present then identified their preference from these two names. Mary Elmes was the winner by 17 votes to 12.
The new bridge is being fabricated in Co Carlow and is scheduled to be lifted into place in late June this year.
It will link St. Patrick's Quay with Merchant's Quay from Harley Street on the northern side. Up to 11,000 pedestrians and cyclists, travelling between the city centre and the Victorian Quarter daily, will benefit from the improved connectivity provided by the new bridge. The Victorian Quarter is made up of Mac Curtain St and the surrounding area.