1 May 2019
By Mary Bermingham
mary@TheCork.ie
Tourism Ireland has teamed up with Ryanair and Cork Airport, to promote flights to Cork from Naples and Milan (Bergamo) and to grow tourist numbers to the South of Ireland. The campaign is highlighting Cork Airport as an important gateway to the Wild Atlantic Way.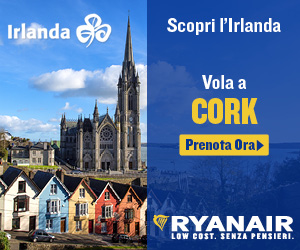 Working closely with airlines and airports to build demand for flights is a key priority for Tourism Ireland and this campaign includes 20-second ads running on five popular radio stations in Naples, as well as online ads on popular websites. Naples is Italy's third largest city and the wider Campania region has a population of around 5.8 million people – so this part of Italy represents a good opportunity for tourism to Cork and the South of Ireland.
CSO figures for 2018 indicate that we welcomed around 409,100 Italian arrivals to Ireland – an increase of +12.6% on 2017. Tourism Ireland is rolling out an extensive programme of promotions in 2019, to build on that success. The organisation is placing a greater focus on driving growth to less visited attractions and locations, as well as on driving business in the off-peak and shoulder seasons.
Niamh Kinsella, Tourism Ireland's Manager Italy, said: "We are delighted to partner with Ryanair and Cork Airport, to highlight ease of access from Naples and Milan (Bergamo) to Cork and to help grow tourist numbers from Italy this year. As an island, the importance of convenient, direct, non-stop flights cannot be overstated – they are absolutely critical to achieving growth in inbound tourism. Tourism Ireland has an extensive programme of promotions under way in Italy throughout 2019. Co-operative campaigns with our key partners, like this one with Ryanair and Cork Airport, are an important element of that programme, to boost travel from Italy to the island of Ireland."