24 August 2019 11.55am
By Elaine Murphy
elaine@TheCork.ie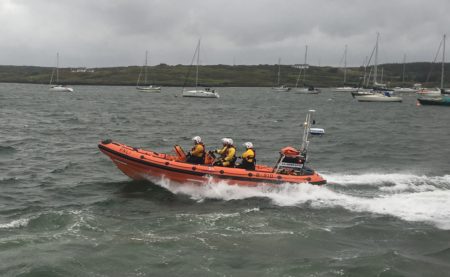 Baltimore RNLI was called out in the early hours of this morning (Saturday 24 August) to a yacht in difficulty south of Sherkin Island near Baltimore in west Cork.
The inshore lifeboat was launched at 12.31am at the request of the Irish Coast Guard to assist a 30ft yacht, with two people onboard, that was in difficulty in the Gascanane Sound less than 1 mile south of Sherkin Island.
The lifeboat with four volunteer crew onboard, helm John Kearney and crew members Ryan O'Mahony, David Ryan and Colin Rochford reached the casualty vessel at 12.50am. They assessed the situation and once the lifeboat crew were happy that the crew on board the vessel were okay, they escorted the vessel to the north pier in Baltimore. The lifeboat then returned to Baltimore lifeboat station, arriving at 1.46am. Assisting at the lifeboat station were Jerry Smith, Seamus O'Driscoll and Micheal Cottrell.
Conditions at the time were calm with a south easterly force 2-3 wind but visibility was poor due to fog.
Speaking following the call out, Kate Callanan, Baltimore RNLI Volunteer Lifeboat Press Officer said: 'Although they were not in any immediate danger, the crew of the yacht did the right thing in alerting the Coast Guard. At the time of the call there was heavy fog, and the area they were in is notorious for strong tides. If you get into difficulty at sea or on the coast, call 999 or 112 and ask for the Coast Guard.'