3 September 2019
By Bryan Smyth
bryan@TheCork.ie
Luxury expedition ship, Le Dumon D'Urville, will make its maiden call to Kinsale on Tuesday Sept. 3rd with 184 passengers and 111 crew on board and will be in port from 08.00 – 18.00 hrs.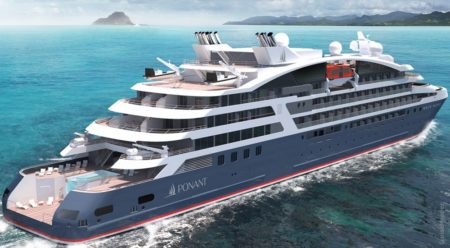 Operated by luxury, French cruise company Ponant, the ship is one of the company's newest, having only been delivered in June of this year. The sleek, modern Expedition Class ship boasts the most innovative "green" technology and has reinforced hulls to protect against the harsh environment of the Antarctic where it will spend much of its time.
It is the first time this company has included Kinsale in its itinerary and next year, they will return with a further 4 cruise ships.
The ship also features a groundbreaking Underwater Lounge, located beneath the waterline, allowing guests to see, hear and virtually feel marine life in the deep sea.
Guests will be predominantly French although English and American guests are also expected.
Many of these smaller vessels are luxury or adventure themed and seek out select destinations where other ships typically do not go and where exceptional experiences are available ashore, making them perfect for West Cork. In recent years cruise ships have called to Bere Island, Schull and Kinsale as well as Bantry.
"A whopping 76% of cruise passengers surveyed in Irish ports in 2016 said that they would be 'very' or 'quite' likely to return to Ireland on a general holiday, having visited for the first time on a cruise. This means that not only is there an immediate economic benefit to attracting these visitors to our harbours, but we're playing the long game too and hoping they will return as longer staying visitors to our region in the future" said Mayor of County Cork, Cllr. Christopher O'Sullivan.
"Cork's extensive coastline, the West Cork Islands and the fantastic facilities in place in our harbours, make it a very appealing destination for sophisticated cruise clients".
Meanwhile, German cruise operator, Hapag Lloyd, will return to Bere Island for the third time on September 29th. with its new, luxury, expedition ship, Hanseatic Nature.