17 September 2019
By Elaine Murphy
elaine@TheCork.ie
The Cork Headquartered SuperValu Supermarket franchise has joined forces with Powers Irish Whiskey to launch two exclusive single cask releases.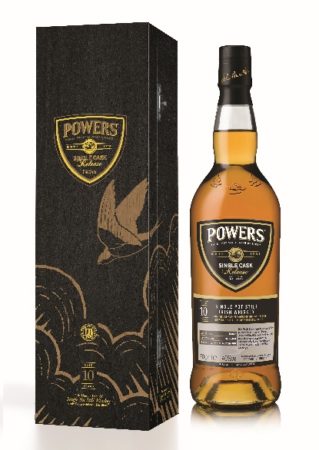 Two unique casks were specially selected for SuperValu customers by Blender Dave McCabe, in conjunction with Master Blender Billy Leighton at Midleton Distillery in Co. Cork. The result is two different limited-edition 10-year-old Powers whiskeys which will be available exclusively in SuperValu stores from October (2019) at RRP of €145.
Commenting on the partnership Claire Tolan, Managing Director, Ireland at Irish Distillers, said 'Like SuperValu, Powers has a rich Irish history, Powers dating back more than 200 years. As a proud, Irish brand, we're delighted to partner with SuperValu to offer two exceptional Powers expressions to SuperValu customers.'
John Cooney, Spirits Trading Manager at SuperValu said "The release of Single Cask Powers Whiskeys is very exciting and a real indication of the resurgence of Irish whiskey.
This collaboration between Powers and SuperValu offers the Irish Whiskey enthusiast the next offering in a unique collection. Five years in the planning, our first collaboration in 2017 was a 15-year -old cask whiskey. Following its success, we launched the 18-year-old in 2018 which became a much sought-after collector's item and now in 2019, we are delighted to launch two superb 10-year-old whiskeys as a continuation of its success and demand for exclusive whiskeys in the market. Over the coming years, we have plans in place to launch an 11 and 12-year-old. "
Tasting notes by Dave McCabe, Blender at Midleton Distillery
1. SuperValu Powers Single Cask #147620 – 216 bottles
Nose: Caramelised toffee apple and delicate herbal notes of rosemary with a mild nutty character that lingers in the background over warm toasted oak notes adding balance to the pot still spices.

Taste: Rich mouthcoating texture with sweet fruit notes while the pot still spices build over time, herbal notes with hints of cinnamon and nutmeg layered over charred American oak providing structure to the mix of fruits, herbs and spices.

Finish: The fruit character fades letting the spices linger while the oak remains until the very end.
2. SuperValu Powers Single Cask #104072 – 276 bottles
Nose: Initial sweet notes of citrus fruit and toffee along with spices of clove and black peppercorn while earthy aromas linger in the background. The toasted wood influence from the charred American oak adds further depth and complexity.

Taste: Rich in pot still spices with light crisp fruit notes building over time moving from orchard fruits to citrus fruits while the toasted oak contribution remains constant in the background.

Finish: The pot still spices and fruit character slowly fade allowing the oak to linger until the very end.