29 November 2019
By Elaine Murphy
elaine@TheCork.ie
GLOW, A Cork Christmas Celebration on the Grand Parade which last year was attended by over 160,000 visitors has begun and will run every weekend until Sunday December 22nd. The festival is organised by Cork City Council.
As part of GLOW, people can enjoy fantastic views of Cork on the 30m Ferris Wheel, delicious food at the Christmas Markets and wonderful singing from choirs on the Grand Parade.
Question: When is GLOW Cork open?
Short answer: GLOW will take be open on WEEKENDS ONLY from now 'til Christmas

Friday 29th November to Sunday, 1st December
Friday 6th December to Sunday, 8th December
Friday 13th December to Sunday, 15th December
Friday 20th December to Sunday 22nd December

Meanwhile, the Ferris wheel will be open each day (of the above weekends) from 12noon to 9pm.
This year Bishop Lucey Park is being designed by Dowtcha Puppets, Cork Puppet Specialists and is being transformed into National Elf Test (NET) Centre where elves have to pass a series of tests so they can be part of the Christmas team.
On entering Bishop Lucey Park, children and their families will be greeted by the elf puppet receptionist who will show them some of the challenges that elves must pass to make sure they are chosen by Santa for the big jobs especially on Christmas eve! These tests include Tree Decorating techniques, Christmas cookie bake off, packing presents with speed, fitness and agility tests and of course how to tell Naughty from Nice.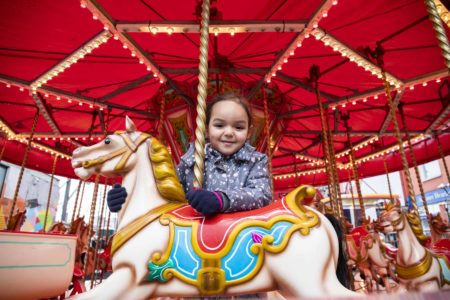 Enjoy music from the Elf Puppet Choir who will be practising their Christmas Carols, visit the Elf Hall of Fame which includes famous elves, Billy Elfish and Elfvis and cheer on the elves as they are presented with their National Elf Test Certificate. Children can post their letter to Santa and the elves will make sure he receives it.
The Lord Mayor of Cork, Cllr. John Sheehan said
"Cork City Council is delighted to present GLOW again this year, a festival that captures the hearts of children and adults alike. The Bishop Lucey Park installation by Dowtcha Puppets will, I'm sure be enjoyed by all, along with the 30 metre Ferris Wheel, market stalls and performances by local groups on the Grand Parade. GLOW, Cork's Christmas Celebration attracts people into the city centre at this festive time, which helps boost local business at Christmas. It is wonderful to see the city so well decorated and busy every December, and I hope everyone enjoys Cork's Christmas Celebration this year."
See glowcork.ie and attached press release for full details of GLOW, A Cork Christmas Celebration on the Grand Parade.