10 September 2021
By Roger Jones
roger@TheCork.ie
What: Circus Vegas (on Wheels)
Where: The Showgrounds, Curraheen, Cork
When: All of September 2021, from Friday 3rd to Sunday 26th September
Daily Performance Times: Weekdays 5pm & 7.30pm, Saturdays & Sundays 2pm, 4pm, 6pm
Buy Your Tickets Here: https://www.circusvegasonwheels.com/buy-tickets/?event_id=99
The COVID19 pandemic affected live entertainment, but an enterprising Circus called 'Circus Vegas' found a solution, it's a Drive-In circus!
Circus Vegas (on Wheels) allows 50 cars to park around the circus ring at every show to watch the action.
There are no animals, so the circus revolves around skilled human performers.
The Showgrounds location is familiar to many Cork people as a series of fields where the Cork Summer Show takes place. There was no live Summer show this year, due to COVID19 so this is your chance to capture some of the Showground atmosphere, with a different event.
The event takes place inside an impressive 'Stars and Stripes' big-top tent, which is visible from the N40 / Ballincollig bypass, which is also the main road between Cork and all points West (Macroom, Kerry etc)
Organisers of Circus Vegas promise an entertaining time at the Showgrounds
"Circus Vegas merges all the elements of Circus with the glitz, glamour, and spectacle that you would imagine when you think Vegas. With jaw dropping acts, scintillating costumes, and the funniest of Clowns the 2021 show brings performers from all over the world, you will be sitting on the edge of your seat, when not falling off them with laughter.

This really is an event with something for everyone, if you're a petrolhead, theatre-goer, thrillseeker or someone wanting to see one of the greatest shows of its time."
How to book tickets / Box office
See Website: https://www.circusvegasonwheels.com/buy-tickets/?event_id=99
More information
See the Circus Vega website at CircusVegasOnWheels.com
Social Media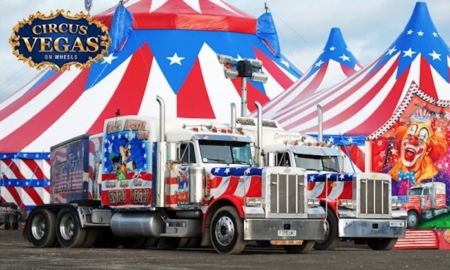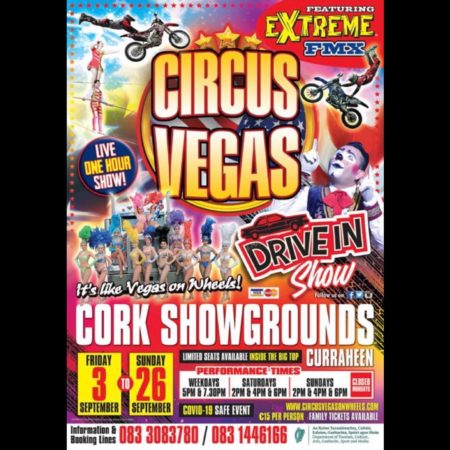 Above: Google Maps, showing location of The Showgrounds, Curraheen, Cork