14 June 2023
By Roger Kennedy
roger@TheCork.ie
Entertainment
Culturally speaking, Ireland has long been a country which has enjoyed gambling. From betting on chariot races in ancient times to the establishment of horse racing in Ireland in the 17th century, in the land of the 4-leaf clover gambling was always a pastime. The luck of the Irish, anyone?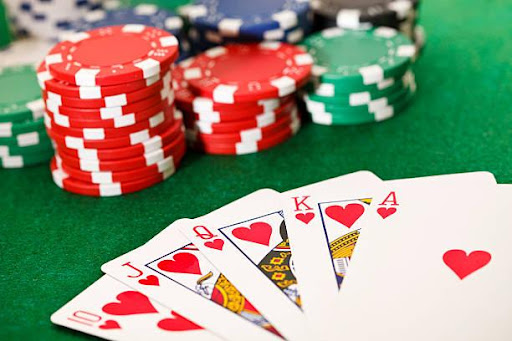 Fast forward to 2023 and nothing has changed other than the fact that it is easier than it ever has been to gamble in Ireland. The reason for this? Well, the internet and technological advancements has meant that we are now carrying around an unlimited number of ways to gamble in our pockets via our smartphones. Sports betting and online casino games are widely available and websites offering such gambling opportunities are easy and safe to access in today's world as they are completely legal. So, to answer the question of the title of this article; yes, it is certainly possible to gamble online in Ireland and The Cork will explain how and why.
A Short History of Gambling in Ireland
The majority of Ireland's recent history of gambling arrived from England in the 17th century. Many of the laws and customs of England found their way to Ireland. At first, the main gambling influence to hit Ireland was horse racing and gambling around these races. Horse racing structure became more established and people were allowed to place bets as legal bookmakers were accepted.
Fast forward to the 2000s and specifically 2015, the Betting Amendment Act meant that if any online operator accepted bets from any Irish citizen in Ireland, the operator would be subject to Irish taxes and licensing. Thus, online gambling became a huge billion euro industry which continues to this day.
What are Online Slot Sites and Why are they Popular?
Although horse racing was previously king, it is now online casino games – specifically online slots – which have quickly become the most popular form of online gambling in the country.
Online slots (aka slot machines which are playable online) are completely luck based and come in various different forms and sizes. Many of them offer different themes; Roman, space, and horror themed, for example. They can be based on different television shows; there is a Peaky Blinders slot. And they can offer different volatility rates and payouts; some slots payout up to 125,000x the wager, for example. The top sites for playing slots will offer hundreds of them, all of differing varieties.
Jean Prince, editor in Chief at Slotshawk.com told us more about the popularity of online slots in 2023:
"Online slot machines are certainly one of the most popular forms of online gambling and they have been for some time now.
"Speaking from a worldly perspective, I would say that football betting is still at the top, but slot games, due to their sophisticated features, are closing the gap.
In 2023, we expect to see more new slot sites launched in order to take advantage of the popularity."
Online slots are usually played at online casinos, increasingly known as slot sites. Their popularity continues partly due to the advancements in technology which have made online slot machines immensely more fun for a lot of Irish punters. The graphics are usually excellent and many of the games have their own unique narratives and features. Slot game development companies are increasingly luring away AAA video game developers.
Safety and Tradition in Ireland
Despite being a small country, Ireland has a relatively large number of traditional casinos, some of which can be found in county Cork. However, the 2013 Gambling Control Bill ensures that Ireland will never turn into Las Vegas. The law limits the total number of casinos in Ireland to 40, as well as allowing no more than 15 tables in each casino. However, the advent of online casino gambling has made such a law a little impotent.
The numerous laws surrounding online and in-person gambling in Ireland has actually made the country one of the safest places in the world for gamblers. However, if you do wish to gamble online, it is vitally important that you play at a licensed casino/online slot site.
Irish Gambling Licences
The Betting Act of 2015 means that any gambling operator must hold at least one of three licences in order to offer their services to the Irish public. The penalty for not adhering to this law can cost an operator between €150,000 – €300,000. 
A licence for retail bookmakers

A licence for operators offering remote betting to customers based in Ireland

A licence for operators who facilitate Irish customers making bets
It is important to check that an operator has a licence to offer its services to Irish customers or from respected authorities in the industry such as the UK Gambling Commission, Malta Gaming Authority, or the Gibraltar Betting and Gaming Association.
The Future of Gambling in Ireland
Similar to the United Kingdom, it is expected there will be significant changes in gambling laws in Ireland in order for the laws to remain up to date. This is likely to mean increased regulations in the form of betting limits and restrictions.
The risk here is that too many limitations may have the opposite effect and push players into the open arms of non-licensed operators, many of which will not impose restrictions on the amount a single punter can make.