27 August 2023
By Tom Collins
tom@TheCork.ie
A busy week for Ballycotton RNLI as one person rescued when boat suffered engine failure near Ballycotton Island.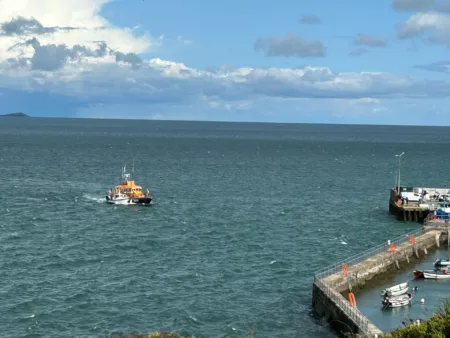 A 7 meter pleasure boat with one person on board fishing off Ballycotton Island got into difficulty yesterday when their boat suffered engine failure and was in danger of running aground on the rocks.
On Saturday afternoon at 2.20pm the skipper of the boat contacted the station and spoke to the coxswain Eolan Walsh advising he had dropped anchor and was trying to fix the engine issue. At 2.32pm further contact was made as due to strong currents the boat was at risk of being pushing onto the rocks. Jerry Lynch the on duty launch authority quickly sanctioned the call and the Ballycotton RNLI all-weather Trent class lifeboat The Austin Lidbury was immediately launched.
Visibility was good, but conditions were choppy with a North West wind 3-4 and it was quickly agreed the safest option was to tow the boat back to the harbour.
Once the towline was secured the crew of the lifeboat were able to return the boat safely to the pier by 3.10pm.
Commenting on the callout Ballycotton Coxswain Eolan Walsh said, 'Thanks to the speedy response of the volunteers we were able to prevent the situation from deteriorating further. The person was wearing a lifejacket and had called for help as soon as they encountered difficulties. We would advise people to take the correct water safety advice for the activity they are taking part in and to always make sure they have a means of raising the alarm if things go wrong.'
The volunteer lifeboat crew comprised of Coxswain Eolan Walsh, Mechanic Alan Cott, Navigator Eolan Breathnach and volunteers Claire Murphy, Cíaran Walsh and Stephen Sloane.
If you see somebody in trouble on the water or along the coast, or think they are in trouble; Dial 999 or 112 or use VHF radio CH 16 and ask for the Coast Guard.