18 November 2023
By Elaine Murphy
elaine@TheCork.ie
MACE has once again teamed up with our Brand Ambassador Johnny Sexton to offer people in Cork the opportunity to share in a prize-fund of €10,000 in a community initiative, whereby the public nominate their Unsung Hero in one of five specially selected categories.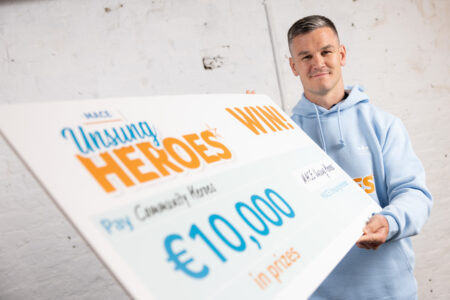 We are looking for you to help us shine a light on the people who go the extra mile to make a difference, but in many cases do not get the recognition they deserve or would never put themselves forward for an award. We want people to nominate their unsung hero, and to tell us which award they think they should win and why.
MACE Unsung Heroes Community Awards were first launched in 2020 and is again fronted by Johnny Sexton, who is delighted to be associated with this very special initiative as it asks the public to nominate someone who embodies all that is good about their community, someone who truly is a local hero.
"I am genuinely proud to be working with MACE in promoting this positive community initiative throughout towns and villages in Ireland. The MACE Unsung Heroes campaign is a fabulous initiative as it puts the power in the hands of the general public for them to nominate someone who they believe is truly special and has had a profound and positive impact on their community. We have had some wonderful nominees and winners over the years and I'm really looking forward to hearing about the thoughtful and generous acts by people in communities all around the country."
MACE Sales Director Keith Crawford commented, "This wonderful community initiative was first launched in 2020 and in that time we have seen and heard about all the wonderful acts and actions of people from all around the country who have never looked for any thanks or acknowledgement for themselves. That is why MACE is very proud of this campaign, which is reflective of the spirit of our retailers, all of whom contribute positively to their communities. We are proud to celebrate the Unsung Heroes of Ireland."
There are five award categories, there will be two winners per category who will each receive a prize of €1,000. This is a fantastic way for MACE to say thank you to the amazing efforts that people are taking in helping their communities in a positive manner.
The five categories are
Charity Award
Environment Award
Inclusion and Diversity Award
Sports, Health & Well-being Award
Youth Award
Entry to the awards is open until 10th December and winners will be announced in January 2024. Entry is on https://mace.ie/UNSUNG-HEROES/ and to enter MACE is asking people to nominate their local unsung hero and in less than 200 words tell us what they have done and why they deserve to win; they can upload an image/video to support their entry if they wish. There is no limit on the number of award categories that someone can be nominated.