16 February 2016
By Bryan Smyth
bryan@TheCork.ie
Cormac Manning, Green Party candidate for Cork North West, demonstrated Green Party policy on flood control this week by taking part in a project to plant native trees in the upstream catchment area of a river.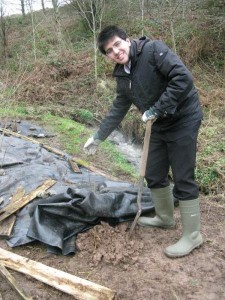 "Latest research shows that the traditional approach of using flood barriers to try to contain water can be ineffective, and instead worsens flooding further downstream in low-lying towns like Bandon or Midleton," said Manning.
"It's better to slow the entry of water into the rivers, and hold it upstream as long as possible. One of the most effective ways to do this is to plant native trees in land that lies close to watercourses."
Cormac was planting willows at Berry, Bush, and Apple, a small plant nursery selling traditional varieties of soft fruit and fruit trees as well as native trees.
He commented, "This is an example of Green policy in action. We have an integrated policy on landscape management for flood control, and an important aspect of that is to give grants to farmers for planting native trees beside streams and rivers."
"It could be done with a small change to the forthcoming GLAS III farm payment scheme; GLAS II already provides for groves of native trees, and we could pay a premium rate if the groves are near to streams. That way farmers and land owners could get income from unproductive land".
Gordon Reid, co-owner of Berry, Bush, and Apple, explained, "We planted willows eight years ago beside the stream that runs through the nursery, and we're extending the planting this year."
"Willows are among the best trees to plant beside watercourses because they prefer damp ground; they grow fast, and you can grow them easily from cuttings. They're also a great source of pollen early in the year to support native bees, which we need to pollinate our fruit trees."
A research study in the UK showed that a large planting of native trees upstream could reduce river volume by nearly 30%. In flooding events like those in recent years in Cork county and city, a 30% reduction in river flow could make the difference between an area flooding or not.
If it's implemented on a wider scale, it could greatly reduce or prevent flooding in low-lying towns and avoid the distress caused to the people affected.