4 March 2016
By Elaine Murphy
elaine@TheCork.ie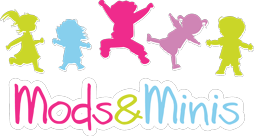 Mods & Minis – children's clothing company – are opening a new store in Ballincollig Shopping Centre on Thursday 10th March at 11am.
The sixth store by this family orientated, Irish owned company, stock a range of clothing to suit all ages from the delicate newborn to 12 years and Diesel Teen boy to 14 years. Their primary product range is renowned Danish brand, the name it range. To compliment this brand in their newborn area they offer additional ranges of Frugi, Bimbus, Funky Giraffe, Dirkje, Baby Elegance and Soggs. This provides a newborn shop for all your newborn needs and gift ideas. We also do a boys teen, occasion wear, for ages 9-15 years in Diesel range which is perfect for your confirmation day. The first Mods & Minis store was established in Killarney in 2004 by Deirdre and Thomas McCloskey and they have gone on to establish six stores throughout Munster, based in Kerry, Cork and Clare.
Mods & Minis understand that children are very much aware of what's in fashion and what's cool. And this is reflected at Mods & Minis, where children are allowed the freedom to express their personalities through the clothes they wear. They aim to be the leaders in children's fashion by delivering excellent customer service every time you visit one of their stores. Their team members are passionate about fashion; they love what they do and are genuinely customer and sales focused. As an added extra they even offer a free gift wrapping service and have a small selection of gift cards to make Mods & Minis a one-stop shop.
Deirdre McCloskey, Owner of Mods & Minis said "We are delighted to be opening our third Cork store in Ballincollig Shopping Centre; our store will offer an extensive range of stylish children's clothing, boasting high quality clothing, at affordable prices. "
Ms McCloskey added that " We have cherry-picked an unrivalled product range that offer exceptional value for money, excellent quality and is bang on trend with what is fashionable at the moment. This move by Mods & Minis is another new positive story for Cork".
Buying children's clothes at Mods & Minis won't break the bank because Mods & Minis stand for quality clothing at a sensible price with an excellent in store service.
Mods & Minis will open on Thursday 10th March at 11am with a 20 per cent off sale from Thursday to Sunday. Mods & Minis are also located in Wilton Shopping Centre in Cork, Mallow town centre in Co. Cork, Ennis town centre in Clare, Tralee town centre in Kerry and Deerpark Retail Park, Killarney in Kerry.