15 December 2016
By Bryan Smyth
bryan@TheCork.ie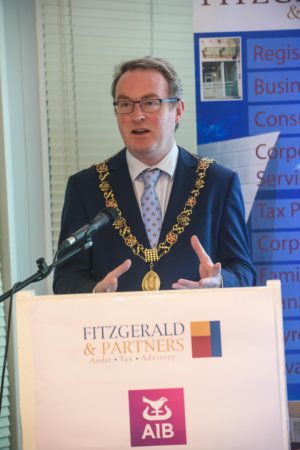 A full house attended the AIB-Fitzgerald & Partners Christmas Luncheon At the Blue Haven Hotel in Kinsale yesterday. The event was attended by Lord Mayor, Cllr. Des Cahill, who addressed the large crowd of stakeholders from the region, from all sectors of the local community. This was followed by a presentation from Mark Fitzharris, head of AIB in Cork, followed by Leading Economist Jim Power who gave his economic outlook for 2017.
The event is one of the popular events in the Kinsale business calendar and covered a range of topics, topical in the local community and the business district of Kinsale with a focus on SMEs and entrepreneurs.
Some of the key points, including some interesting statistics that small firms in Ireland that have less than 50 employees make up 98% of all businesses in Ireland and 49% of private sector employment. They are worth one third of the total value of the Irish economy. As regards new firms, less than 5 years old, were the second fastest growing in the EU. "Jim Power spoke of more important than ever to nurture beleaguered SMEs, that the economy will inevitably become more dependent on this sector. The event was sponsored by AIB Bank and organised by Fitzgerald & Partners Accountants, Kinsale.