22 March 2017
By Tom Collins
tom@TheCork.ie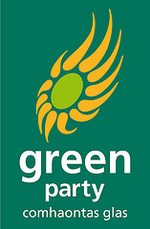 The Green Party in Cork today expressed concern at an offer by An Bord Pleanála to allow Indaver Ireland to correct health and environmental data presented in its application for an incinerator at Ringaskiddy.
Evidence presented on the final day of the oral hearing showed that data in Indaver's Environmental Impact Statement (EIS) – that they claimed was sampled at Ringaskiddy in 2015 – actually came from 2008, and some of it from another part of the Country.
The evidence was exposed by Dr Gordon Reid, the Green Party's  representative for the Bandon-Kinsale area.
Yesterday, Dr Reid wrote to Minister Simon Coveney expressing concern at media reports of communications between An Bord Pleanála and Indaver, and calling for transparency and community involvement in the process.
Speaking this morning, Dr Reid said:
"The facts are clear. Ninety-six pages of detailed computer modelling, supporting what is perhaps the most crucial argument Indaver was making – their claim that the incinerator was safe – was presented as being based on soil samples taken at Ringaskiddy in 2015. But it had nothing to do with Ringaskiddy in 2015. Half of the data came from samples taken at Ringaskiddy in 2008, and the other half came from a totally different site, in Co. Meath, also in 2008. All that had changed was the filenames. The data in these 96 pages bore absolutely no relation to the numbers presented in the EIS, that claimed to show that dioxins would be below EU guideline levels."

"Indaver must provide a clear and credible explanation for these facts: they need to tell us slowly and clearly, so that we can all understand what on earth they were up to. They need to explain in a way that we in the community can trust. I would like to see how they manage that."

The Board is asking Indaver to "if necessary, correct any errors".
Dr Reid was critical of this:
"If you or I were applying for permission to build an extension, and the Council found out that some of the most crucial information we'd given had nothing to do with the site, and came from our cousin in County Meath, then I don't think they would be asking us for corrections. I think they would immediately throw out the application and refuse to even consider it. I think their attitude would be, and with good reason – we've found you out on this, but what about the rest of the application? Can we believe anything you tell us?"