24 March 2017
By Elaine Murphy
elaine@TheCork.ie
Awards ceremony to take place on Wednesday 17 May 2017
The shortlist for the annual Bord Gáis Energy Student Theatre Awards has been revealed. A total of seven Cork schools have caught the attention of the judging panel and will now attend an exciting Awards ceremony in the Bord Gáis Energy Theatre in May.
Scoil na mBuachaillí in Clonakilty has been shortlisted in the Best Original Production category for the school production of 'Macbeth The Musical'. Judges commented that the production was "ambitious and brilliantly unique".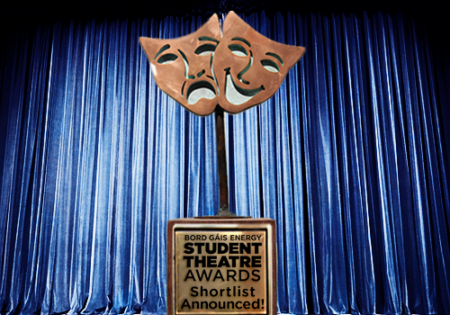 St. Joseph's National School in Skibbereen has been shortlisted in the Best Costume category for its costume creations in the 3rd and 4th class production of 'Alice in Wonderland'. The judges noted that the costumes were "very beautiful and really sold the production".
Gaelscoil Uí Drisceoil in Glanmire has been shortlisted in the Best Musical Number category for its performance of The Foggy Dew in the production 'Is Liomsa na Camáin'. Judges praised the performance by 3rd and 4th class students for putting "a new spin on 1916".
5th and 6th class students Aoife Lehane, Alannah O'Connell, Meadhbh De Búrca, Hannah Nolan, Aoife Ahern, Bronagh Cullimore, Leah O'Sullivan and Lena Sharkey from Scoil Chlochair Mhuire in Carrigtwohill have all been shortlisted in the Best Performance in a Supporting Role category for their performance as an ensemble cast in the production 'Fianna Factor'. Judges noted that it was a "true example of brilliant ensemble supporting play".
6th class Tyler Abbey-Henning from Ardagh B.N.S. in Rosscarberry has been shortlisted in the Best Male Performance in a Leading Role category for his performance as Betty in the 6th class production of 'A Bad Hair Day'. Judges praised Tyler his entertaining performance.
St. Colman's Community College in Midleton has been shortlisted in the Best Overall School Play category for its production of 'Of Mice and Men' by 3rd Year students. The judges said the actor's connection was "amazing and so believable."
Finally, Midleton Colllege is shortlisted in the Best Choreography category for its school production of 'The Producers'. The judges praised the two lead dancers for making a tricky performance look effortless.
On Wednesday 17 May 2017, shortlisted primary and secondary school students from across the county will gather at the Bord Gáis Energy Theatre for a special Awards ceremony where the winners will be announced. RTÉ presenter Eoghan McDermott will host the event with selected schools getting the opportunity to perform on Ireland's largest theatre stage on the day, making it a magical experience they won't forget!
This is the fourth year of the hugely successful Awards which were set up by Bord Gáis Energy to recognise and reward participation in the dramatic arts in schools around Ireland. Over 1,000 schools have taken part in the Awards since their launch in 2013 and last year saw over 2,000 students from counties across Ireland attend the Bord Gáis Energy Theatre for the celebratory Awards ceremony.
Open to primary school pupils from 3rd – 6th class and all secondary school students, the Awards features 12 categories ranging from performance and production categories such as Best Overall School Musical, Best Costumes, and Best Performance in a Leading Role to written categories such as Best Dramatic Review and Best Short Scene Script. A new category, Best Original Production, has also been added to the 2017 Awards in appreciation of the exceptional quality of original productions entered in 2016.
This year's judging panel comprised of actress Amy Huberman; Dancing with the Stars Aoibhín Garrihy; best-selling novelist Sinéad Moriarty; writer and storyteller Dave Rudden; theatre designer Monica Frawley; manager of the Bord Gáis Energy Theatre Stephen Faloon; and Bord Gáis Energy Sponsorship Programme Manager Tanya Townsend.
Commenting on the shortlist Irene Gowing from Bord Gáis Energy said: "Year on year the standard of entries blows us away, and this year has been no different! Entries across all categories have been so impressive meaning this year's judges have had a very difficult task trying to narrow down our shortlist. On behalf of the judging panel, I would like to thank all the Cork schools who entered and congratulate the seven that have been shortlisted! We look forward to seeing them at the Awards ceremony on the 17 May 2017."
The full 2017 shortlist is available to view at www.BGESTA.ie