31 March 2017:
By Bryan T. Smyth
bryan@TheCork.ie
Cork University Maternity Hospital (CUMH) celebrated its tenth year with a celebratory service, this morning, Friday, 31st March. The maternity hospital first opened its doors ten years ago to the day on the 31st March 2007 and involved the amalgamation of maternity services from Erinville Hospital, St. Finbarr's Maternity Hospital, Bon Secours Maternity Unit and Gynaecology services from the Cork University Hospital.
The event comes one day after the Minister for Health, Simon Harris TD, pledged his commitment to a €7.5m capital investment to CUMH over the next three years.
The ceremony was attended by a very special guest of honour – Kacper Ciolek; the first child born at CUMH. Kacper celebrated his 10th birthday in the company of CUMH staff, meeting many doctors and nurses who have worked in the hospital for the past decade.
In a moving ceremony Kacper handed a lit candle to the mother of baby Daniel O'Riordan Connolly, who was born today at CUHM. Daniel and Kacper, now share a birthday.
CUMH is part of the South/ South West Hospital (SSWHG) and is the largest tertiary referral centre in the south of Ireland. It facilitates both day and in-patient services including maternity and gynaecology.
Since the 31st March 2007 to 31st December 2016, there have been 84,163 babies born to 82,328 women. There have been 1731 sets of twins and 52 sets of triplets.
CUMH maternity services comprises of:
· 12 bedded delivery suite
· 87 bedded post-natal wards
· 31 bedded antenatal ward
· Neonatal Unit with 46 cots, 6 designated intensive care cots, 6 high dependency cots and 34
· 24 bedded gynaecology ward (16 gynaecology and 8 pregnancy loss)
· Stand-alone outpatient department for antenatal, gynaecology, urodynamics, colposcopy and midwifery led scanning department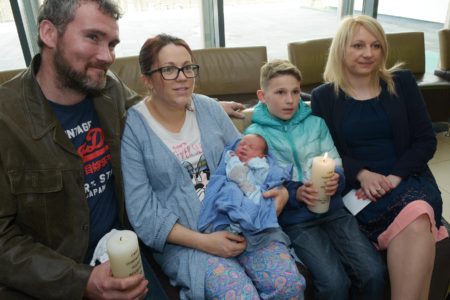 Birthday boy Kacper Ciolek, aged 10 from Kenmare, Co. Kerry, the first baby born at Cork University Maternity Hospital sits next to new born baby Daniel O'Riordan Connolly, Passage West, Co. Cork, one of the latest arrivals at the hospital. Also included are, Daniels parents Dsnis Connolly and Jessica O'Riordan and Kacper's mum Luiza Poslada-Ciolek.
Cork University Maternity Hospital is celebrating its ten year anniversary today. Pic John SheehanIn a video message sent to staff this morning, Minister for Health, Simon Harris congratulated all of the staff in CUMH on reaching this significant milestone and thanked them for the incredible service they have provided to so many women and infants right throughout the Southern Region over the last 10 years.
The Minister said; "I am absolutely determined to work with everyone at CUMH to further improve and enhance services at the hospital. Yesterday I met with consultants and representatives of the SSWHG to talk about how we can invest more in CUMH, how we can drive down waiting lists and how we can deliver an even better service for women and infants into the future. The plan we signed off on will make significant improvements to waiting times, will support and empower clinicians to do their job and will no doubt lead to an even brighter next 10 years for CUMH".
Speaking at the launch, Professor John R. Higgins, Clinical Director, Maternity Services, South/South West Hospital Group commented; "This is a significant day in the history of maternity services in Cork and the surrounding area of which we service, and we are delighted that today, on our 10th anniversary, to be welcoming the news from Minister Harris that he has committed to a €7.5 million investment in CUMH over the next three years.
The staff here, both past and present have done an incredible service to all the women who have passed our door in the past decade. In the past decade we have delivered close to 85,000 babies, and it is our pleasure today to welcome back the first of those babies – Kacper.
We look forward to continuously striving to provide the best possible maternity and gynaecological care possible for our patients in the years ahead."
Kacper Ciolek, who was the first baby born at the Hospital ten years ago, now aged 10 said; "Everybody is very nice and it's a good day, especially as I have no school and the bonus is I missed a test."
Speaking on returning to the Hospital, a decade later to celebrate with the staff, his mother, Luisa Poslada Ciolek, commented; "It is so good to be back again. The staff here are great and the nurses wonderful. Time flies, but I do remember being delighted that Kacper was the first baby to be born here. Nicola, my daughter was born here too and I have nothing but great memories."