27 April 2017
By Bryan T. Smyth
bryan@TheCork.ie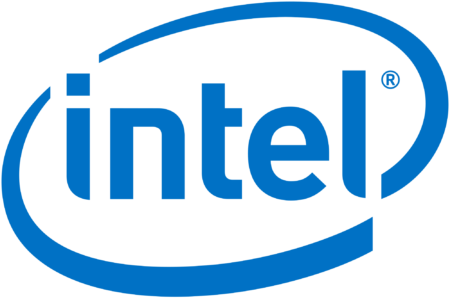 Intel yesterday, Tuesday, April 25th, celebrated the success of its 2016 Matching Grant initiative, rewarding 124 community organisations and schools from across Ireland with €502,378.
4 organisations from the Cork area were part of the 2016 Matching Grant Scheme and thus will receive funding in the amount of more than 14,700. These organisations are;
Cork Simon Community
Highfield Rugby Football Club
Irish Dogs for the Disabled
Irish Guide Dogs for the Blind
The Intel Involved Matching Grant Program encourages Intel employees to engage in outreach and volunteerism in their communities by supporting employees' giving their time and talent to qualified non–profits organisations and schools. For every hour that is volunteered by an Intel employee at a school or qualified non–profit organisation, a donation or "match" of $10 for is paid from the Intel Foundation.
In 2016 Intel employees volunteered just over 54,000 hours that were eligible to be matched through this initiative resulting in a payout of €502,378 ($547,215) for 124 recipient organisations who are spread across 20 different counties in Ireland.
Employees were recognised for these efforts at a special event held at the Intel campus in Leixlip which was attended by Mayor of Kildare Ivan Keatley along with representatives from each of the recipient organisations.
The 124 organisations which were part of the Matching Grant initiative included charities such as Irish Dogs for the Disabled, the Parkinson's Association of Ireland and the Society of the Vincent De Paul, a variety of sporting clubs ranging from GAA to cycling, and various other organisations such as animal sanctuaries, scouting groups and schools.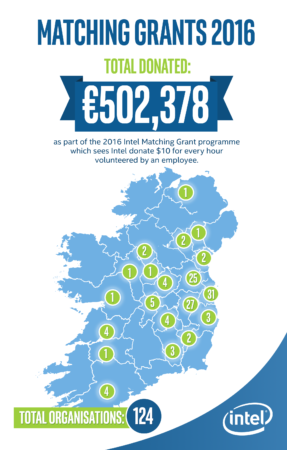 The unique nature of this program is that it empowers employees to make a difference not only through their hours but also to reward their organisations with matched funding from the Intel Foundation.
This is the ninth year that Intel has implemented the current grant scheme and in that time more than €3.65 million has been donated to charities, schools, sports clubs, social initiatives and community schemes across Ireland. The total number of hours volunteered by employees during this times is the equivalent of having 25 people working full time in the community for the full nine years.
Eamonn Sinnott, Intel Vice President, Technology and Manufacturing Group and General Manager of Intel in Ireland spoke proudly of the thousands of hours of volunteering completed by Intel employees in 2016 which resulted in the grants "Volunteering is an integral part of Intel's culture and the Matching Grant Program aims to recognise and motivate Intel employees to engage in outreach and volunteerism in the communities where they live and work. Our employees have once again demonstrated a remarkable commitment to a variety of organisations and have made a real difference to their communities by volunteering both their time and expertise. I am proud to be here today to share in their achievements and to acknowledge their contributions through the presentation of these grants".
Also speaking at the event, Mayor of Kildare Ivan Keatley added, "Volunteers play such a pivotal role in our communities and have a far reaching and important impact on so many people. I would like to congratulate Intel on their Matching Grant program and to commend the employees for their continued dedication to volunteering".