20 September 2017
By Bryan T. Smyth
bryan@TheCork.ie
The Atlas of the Irish Revolution, published Cork University Press, with a UCC editorial team at the helm
Launched last evening in UCC by Professor John Horgan, this new book has already entered the Nielsen Irish hardback non-fiction charts at No. 8.
Following the commercial success of the Atlas of the Great Irish Famine (2012), the Atlas of the Irish Revolution (2017) brings the same engaging and detailed treatment to the Irish revolutionary period.
With just under 1000 pages, weighing 5kg – and featuring hundreds of maps, photographs, paintings and other illustrations – this spectacular volume is the most comprehensive treatment of Ireland's revolutionary years ever produced.
Speaking about the book, Prof John Horgan said: 'This volume is not just a book, but a multi-media creation, in the most modern sense. It can also be celebrated as a riposte to the misbegotten theory that the book, as a cultural artefact, is dead. It is already succeeding commercially in many quarters, which is not only a tribute to its many qualities, but timely recognition of the many, many hours of hard labour spent, and perhaps a few gallons of blood spilt, between editors, contributors, and publishers, in the process of achieving such an extraordinary result.'
The Atlas of the Irish Revolution, published by Cork University Press and edited by John Crowley, Mike Murphy, Donal Ó Drisceoil and John Borgonovo, is now available in bookshops and online, costing €59.
The Atlas presents the history of the Irish Revolution in a vivid and exciting way, using many photos and archival documents that have rarely been seen by the Irish public.
It covers all the key events and episodes from 1912 to 1923 – the Home Rule Crisis, the First World War and Easter Rising, the First Dáil and the War of Independence, the Treaty and Civil War – but also features sections on the roots of the revolution in the 19th century; the impacts, outcomes and legacies of these turbulent years; and how they have been remembered in literature, on film, in art and through public memorials.
"We were looking for a way to celebrate this Decade of Centenaries, and this project is UCC's contribution to the Decade celebrations," said Mike Collins, Publications Director, Cork University Press. "We believe it's the definitive publication for this critical period in Irish history."
Where to buy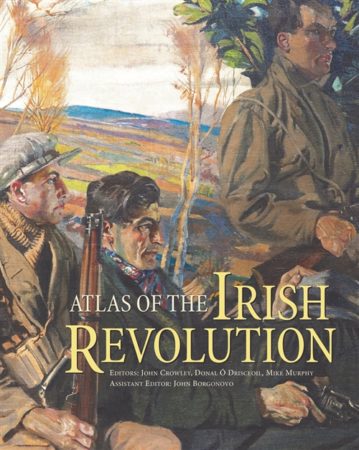 The Atlas of the Irish Revolution, published by Cork University Press and edited by John Crowley, Mike Murphy, Donal Ó Drisceoil with associate editor John Borgonovo, is available in all good bookshops and online, price €59.00 or copies may be ordered directly from www.corkuniversitypress.com