24 October 2017
By Bryan Smyth
bryan@TheCork.ie
Clonakilty lecture on wartime American Sailors and Submarines off Co Cork 100 years ago
The next Dúchas Clonakilty Heritage lecture takes place on Thursday evening 26th October at 8.30pm in the local Parish Centre.
This months offering is entitled, "Submarines, American Sailors, and the Underwater War in Irish Waters 1917-1918", and will be delivered by Dr John Borgonovo, of the UCC School of History.
In 1917, unrestricted submarine warfare by German U-boats brought the United States into WWI and created a crisis in Britain.
To defeat the submarine menace, an American naval fleet with 10,000 sailors was dispatched off the coast of County Cork. The illustrated lecture will explain the circumstances of this extraordinary event, and how Cork residents dealt with their unexpected American guests.
Dr. John Borgonovo has published a number of books in recent years, including: "Spies, Informers, and the 'Anti-Sinn Féin' Society: The Intelligence War in Cork City, 1920-1921"; "The Dynamics of War and Revolution: Cork City, 1916-1918"; "Exercising a close vigilance over their daughters: Cork women, American sailors, and Catholic vigilantes, 1917-18" and "Something in the Nature of a Massacre: The Bandon Valley Killings Revisited" (with Andy Bielenberg).
His latest publication (with co-authors John Crowley, Donal Ó Drisceoil and Mike Murphy), is the highly-acclaimed and magnificent "Atlas of the Irish Revolution".
In July of this year, Dr. Borgonovo organised a very successful conference on "Winning the Western Approaches – Unrestricted Submarine Warfare and the US Navy in Ireland 1917-1918".
Attendees at Thursday's Dúchas Clonakilty Heritage are in for a treat with a talk by such an eminent speaker and are advised to arrive well before the 8.30pm starting time as seating is limited.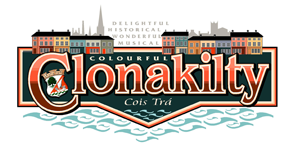 See the Dúchas Clonakilty Heritage Facebook page https://www.facebook.com/DuchasClon for further information.