2 December 2017
By Bryan Smyth
bryan@TheCork.ie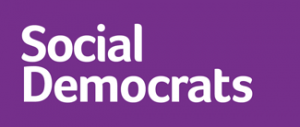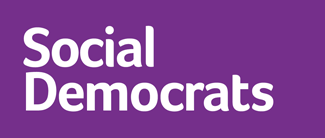 The Social Democrats in Cork gathered to choose their general election candidates for Cork North Central, Cork South Central and Cork North West at the Selection Convention in the Imperial Hotel on Thursday, November 30th.
The Social Democrats now have candidates running in 16 constituencies with more to be announced in the coming weeks and months throughout the country.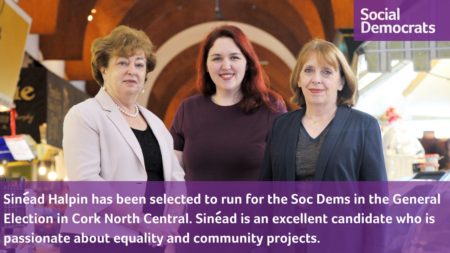 Commenting on her selection as Social Democrats candidate for Cork North Central, Sinéad Halpin said:
"The current government's actions say that "just about coping" is the best they have to offer. These actions tell us that a homeless family can cope being in one room for months or years on end. If you need a termination of pregnancy, you can cope by going on a plane. If you are a young working family, you can cope by just managing every month to pay all the bills, childcare and save for a home of your own becoming a distant dream with current house prices. If you are on a healthcare waiting list, you can cope until you can't and then arrive at A&E to cope on a trolley for hours or days or more. If you can't afford third level education, you can cope with a PLC course in an area that doesn't suit your interests or abilities. Coping should not be the pinnacle of achievement. We have an obligation to help everyone reach their full potential and live a full and healthy life.
The Social Democrats are a party of passionate people that aren't afraid to ask questions, seek solutions and follow through with results. I know that when the people of Cork North Central see what the Social Democrats have to offer that their voices, through us, will be heard loud and clear at a local and national level. We will not "just cope". With your voices and your support, we will thrive."
Commenting on her selection as Social Democrats candidate for Cork South Central, Patricia O'Dwyer said:
"I believe that the values of Cork and Ireland are fundamentally social democratic values: Universal Healthcare, Affordable Housing and Accessible Education for all. As a party, we take a long-term view for the future of Ireland e.g. reform of the health system and judicial system. A populist party may change its clothes depending on the direction of the wind but our values are clear: Progress, Equality, Democracy and Sustainability.
People across Cork feel their government doesn't work for them. And the reality is that the same old policies from the same old parties will only lead to the same old problems. To those who are frustrated by politics, I say that we can change this. We can create a country that works for you. It won't be quick or easy and we're not in the game of false promises. The Social Democrats are here to stay."
Commenting on his selection as Social Democrats candidate for Cork North West, Ciarán McCarthy said:
"Our country is more than the fear and cynicism we're used to. Our society is much more than that, and our message as Social Democrats must reflect these qualities as a positive one. We are one of the wealthiest countries in the world and yet the real shame is that the benefits of this society are not shared by all of its members.
My motivations is get involved with the Social Democrats are Fairness and Equality. Caring about the most vulnerable in our society forms the basis of our party. Universal healthcare in our communities, affordable housing, reducing the costs of living, an anti-corruption agency and empowering local business and communities are worth fighting for and why I'm running."