14 December 2017
By Mary Bermingham
mary@TheCork.ie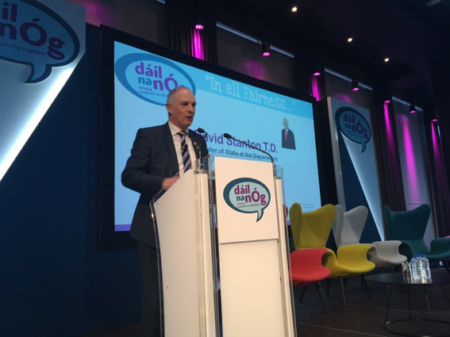 The decision of Dail na nOg to prioritise equality in schools has been welcomed by Fine Gael TD for Cork East and Minister of State for Equality, Immigration and Integration, David Stanton. The decision was taken by the national youth parliament at a full day session which was launched by Minister for Children and Youth Affairs, Katherine Zappone TD with Minister Stanton addressing the delegates and participating in the panel discussion.
"I was very pleased to address the 200 young people who participated in Dail na nOg and speak about my priorities in the area of equality in particular gender equality, LGBTI equality and equality for people with disabilities. I also spoke about a number of new equality based strategies such as the Traveller and Roma Inclusion Strategy, Migrant Integration Strategy and the National Strategy for Women and Girls.
"The young people, aged between 12 and 17, who attended the conference, came from 31 different youth councils (Comhairle na nOg) across the country. Delegates decided that 'equality in schools should be a top priority for Comhairle na nOg nationally with a particular focus on gender equality, religious equality, school choice, uniform policy, school facilities and teacher student relationships. They will work directly with, and be supported by, officials from both the Department of Children and Youth Affairs and the Department of Justice and Equality to implement the changes recommended by the young people", said Minister Stanton.
"The final part of the day was a question and answer session which gave delegates the opportunity to question me, Dr Niall Muldoon, Ombudsman for Children; Tanya Ward CEO, Children's Rights Alliance and Dr Carol Baxter, Assistant Secretary and Head of Asylum Services, Integration and Equality at the Department of Justice and Equality on the significant issues identified during the day's discussions. It was also an opportunity for me and others to listen to the views of the delegates and use this information to shape future policies.