26 May 2018
By Elaine Murphy
elaine@TheCork.ie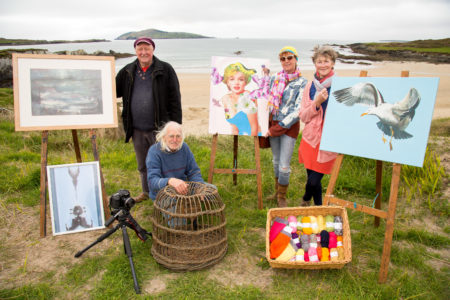 Sherkin Island artists, photographers, musicians and craftworkers are preparing for the islands' annual community exhibition.
Part of this year's West Cork Islands Festival, the exhibition 'Samhradh Le Cheile' (Summer Together) opens in the Community Hall on Sherkin Island at 2:30pm on Saturday 16th June and will run for two weeks until Sunday 1st July.
Curated by Sherkin Island artists and former graduates of the island's Visual Arts Degree Programme, Brigid O' Connell-Madden and Jean Dunne, the exhibition will include all aspects of visual art including drawings, paintings, sculpture and photography. Craftwork such as basket-weaving, textiles, knitting, wood-turning, ceramics and jewellery will also be featured.
Project Co-ordinator for Sherkin Island Development Society, Aisling Moran, said: "Once again, we are showcasing the amazing creative talent on Sherkin Island and to see how the unique landscape of this island of artists influences and inspires people of all ages and backgrounds to create.
"It's a great opportunity for people to visit the island and see first-hand why Sherkin Island is well and truly 'the island of the arts'.
A unique aspect of this year's exhibition is that people have been invited to submit their favourite recipes as well, and these will be available for all to see and sample.
Brigid O' Connell-Madden explained: "Creativity comes in all shapes and forms and we wanted our exhibition to be completely inclusive so we have invited every resident on the island to submit a favourite/family recipe, ideally with a few lines about the person it came from and a photo of them."
In addition to the Samhradh Le Cheile exhibition, several of the island's artists are opening their studios to give visitors an insight into their creative working environments and how they work.
Jean Dunne said: " Our artists' studios are tucked in behind dry stone walls and hedgerows so it's wonderful that so many island artists are opening these amazing spaces for all to see."
There will be a series of open workshops running throughout the weekend, and for music lovers, the Presto Quartet will play at the North Shore on Sunday 17th June from 4.30pm. This is a group of Transition Year students from the Cork School of Music who will perform a world premiere of an original piece by Ian Wilson. Admission is free but donations are appreciated.
Aisling Moran said: "There is something for everyone at this year's West Cork Islands Festival on Sherkin Island so we hope that people will make the ten minute journey across Baltimore Harbour and join us in this summer celebration of community and creativity.
"We are extremely grateful to Fáilte Ireland for their support of the West Cork Islands Festival and to Cork County Council's Art Department for their support."
For ferry times see: http://www.sherkinisland.eu/ferry
For further information https://www.facebook.com/Sherkinsummerfestival2018/