19 February 2019
By Elaine Murphy
elaine@TheCork.ie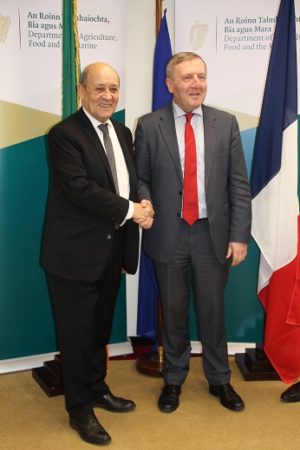 Minister for Agriculture, Food and the Marine, Michael Creed T.D., met today (Tuesday) with Jean-Yves Le Drian, French Minister for Europe and Foreign Affairs to discuss and share concerns about the potential serious impacts for Irish and French fishing fleets if they were excluded from UK waters in a "no deal" Brexit situation.
Minister Creed said " I welcomed the opportunity to meet and directly discuss fisheries concerns in the context of a possible "no deal" Brexit with Minister Le Drian during his visit to Ireland today. The meeting served to confirm our shared concerns and understanding of the serious issues that could arise in the event that the EU fishing fleet are denied access to UK waters. Both the Irish and the French fleets have a heavy reliance on fisheries in UK waters and lack of access would adversely impact on both fleets. We both agreed that our strong desire was that the Withdrawal Agreement between the UK and the EU will be ratified and that negotiations will commence on the overall future relationship during the proposed Transition period."
The value of the French landings from the UK zone amounts to €170 million a year annually while Ireland's landings from the UK zone is some €85m. Both Ministers discussed issues that may arise from a disorderly Brexit and both emphasised the importance of an EU27 co-ordinated plan to mitigate possible adverse impacts.
Minister Creed went on to say "I agreed with Minister Le Drian that it is essential that the EU fisheries impacted Member States – Ireland, France, Germany, Belgium, Denmark, Netherlands, Spain and Sweden work together, with the EU Commission taking a leadership role, to prepare mitigation measures to be ready to support our fishing industry if we face exclusion from the UK zone. I was pleased that Minister Le Drian shared my analysis and assured me that France is committed to strong and proactive engagement to prepare for this scenario which we both hope can be avoided."
Minister Creed also raised the issue of Irish Exporters use of the UK land-bridge and sought assurances that Irish exporters would not be disadvantaged due to the transit of goods via the UK. The issue of maximising opportunities for live cattle exports was also raised by Minister Creed with specific reference to the provision of facilities in France for use by exporters.