6 April 2021, Tuesday
By Tom Collins
tom@TheCork.ie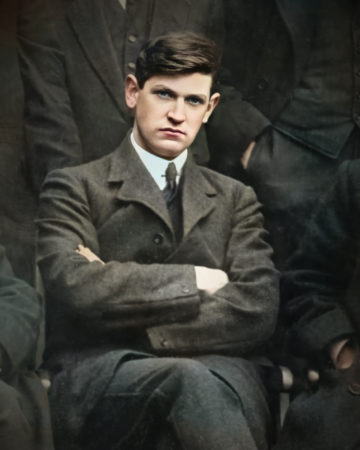 West Cork Independent TD Micheal Collins spoke in the Dail on Wednesday 24th March about his own hometown of Lowertown and the history and commemoration of Micheal John McClean who lost his life on December 8th 100 years ago in Gaggin in Bandon. Deputy collins said "he was delighted to have played a part in the commemoration on December 8th last, with the hardworking committee in the surrounds of the McClean memorial in Lowertown," he said " we need to protect our culture and respect our culture and our communities".
Deputy Collins also spoke about "the fine museum and the memorial gardens in West Cork like the Micheal Collins centre between Ballinascarty and Timoleague ran by the Crowley Family, this museum never got a cent from state funding, yet its one of the finest museums to Micheal Collins in Ireland, the Crowley family who are relations of the late General Michael Collins should be thanked and should be supported by us, the general public by visiting it and also by the state with funding and state recognition".
"The Kilbrittan Memorial committee who built a memorial garden in 2016 to commemorate the 100th anniversary of people who died at that time, a parish who lost the most when 8 local people out of 800 people in their parish lost their lives, the committee are seeking funding to build a bronze statue of Charlie Hurley, the officer commanding the west cork brigade, they are not looking for huge amounts but feel is only right to protect the history and the government need to step in here and help them with funding to commemorate our fallen heroes, a modest amount from the state would make such a difference to them" said Deputy Collins.
"Its time for us to stop talking and start funding these vital community commemorative's "stated Deputy Collins, "West Cork played the most active part in 1916 included in this are Cumann na mBan, without these strong women who sacrificed so much, many of whom were imprisoned and on hunger strike, without the women of this country the war of independence would not have been the success it was" continued Deputy Collins.
Deputy Collins also spoke about "the Crossbarry Memorial and the dedicated committee who are working towards their commemoration, I would also like to mention Joesph Croake who is involved in both the Crossbarry and the Lowertown commemorations, without people like this we wouldn't have our commemoration's and credit must be given to all of our committees for their hard work and dedication".