23 February 2023
By Mary Bermingham
Mary@TheCork.ie
Kinsale Community School has made history by winning the National VEX VRC competition for a 5th time, cementing its position as the top school in the country for robotics and securing its place in the World Championships in USA. Every year, VEX robotics competition brings together the brightest young minds nationwide to showcase their skills and abilities. This year's competition took place on the 23rd of February in Pairc Ui Chaoimh just outside of Cork City centre. It featured 20 of the best teams from all over Ireland, having previously qualified through regional competitions.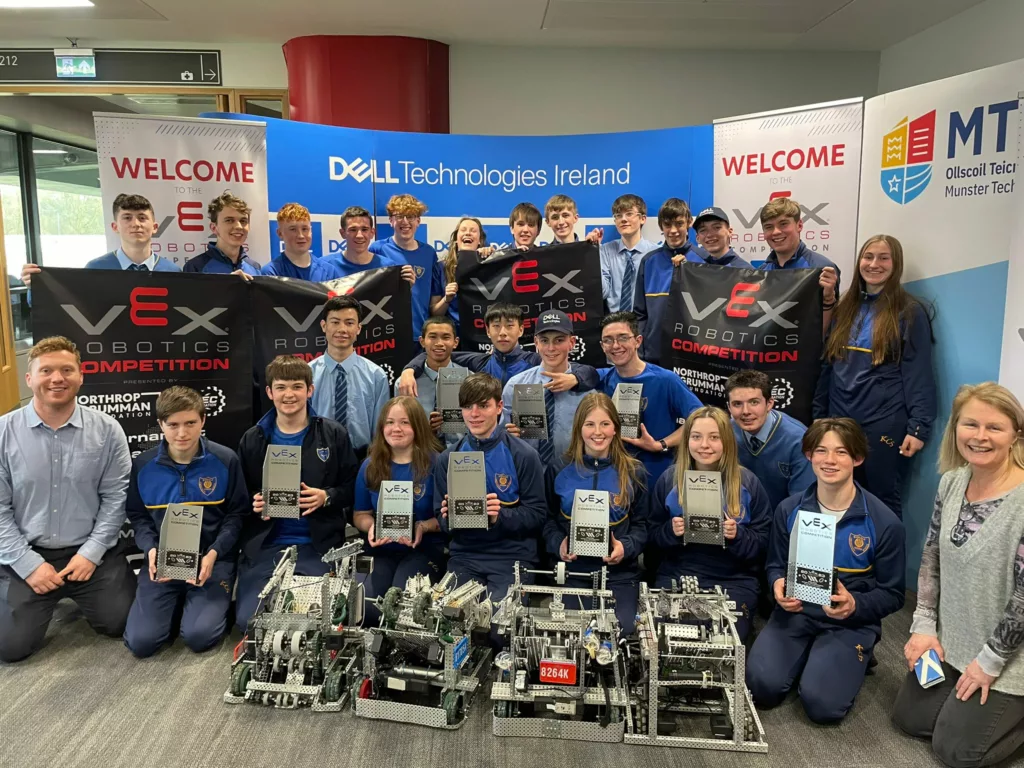 Kinsale Community School's four Robots teams, comprising 20 TY students, performed exceptionally well, impressing judges with their innovative design, creativity and ability to solve complex problems in engineering and coding. Their robots completed a series of challenges in this year's game named "Spin Up". This year's competition was complex, requiring the robots to intake and launch discs into nets. The 2-minute games have two parts, a 15-second autonomous and 1 minute 45-second driving control section.
The picturesque seaside town's diligent and competitive students won 10 of the 13 awards including Excellence Award, 2 Tournament Champion awards.
The Kinsale teams have worked hard for months to perfect their design and programming skills. They have demonstrated high professionalism and dedication, spending countless hours perfecting their robot and practicing their strategies. They are now proud to represent Ireland in the upcoming World Championships in Dallas, USA, in April.
The team's victory is a testament to the school's dedication to STEM education (science, technology, engineering, and mathematics), already with a great history in BT Young Scientist, and its commitment to inspiring young people to pursue careers in these fields. It also reflects the hard work and determination of the students and their mentors, Niamh Hay TY Coordinator and Eddie Farren, IT Coordinator who also each won Teacher of the Year awards. In addition to their victory in the VEX VRC competition, Kinsale Community School has also been actively mentoring local Primary schools in VEX IQ. This initiative, which began in 2018, is designed to introduce young children to the exciting world of robotics and programming and to foster their interest in STEM education. "This is what sets Kinsale's TY Robotics program apart. It creates student leaders, and the students become the experts creating a self-directed learning culture" says Eddie Farren, IT Coordinator and student mentor in the KCS robotics club.
"We are incredibly proud of the Vex Awards these pupils have achieved through their talent and dedication to their Robotics Programme. They embody the passion that Kinsale Community School has for STEM and as a community we are delighted to cheer on their well-earned success. Their teachers, Niamh Hay and Eddie Farren, are a credit to the school and their profession. They richly deserve the Best Teachers Awards for the incredible dedication and hard work they have given in support of these wonderful young people." says Kathleen O'Brien, KCS Deputy Principal.
"Immensely proud of this phenomenal student achievement and beyond grateful to our staff for the guidance they provided to them. The skills learned in this competition will stand the students in great stead in their futures in terms of teamwork, critical thinking, and problem-solving." Says Fergal McCarthy, Principal of Kinsale Community School